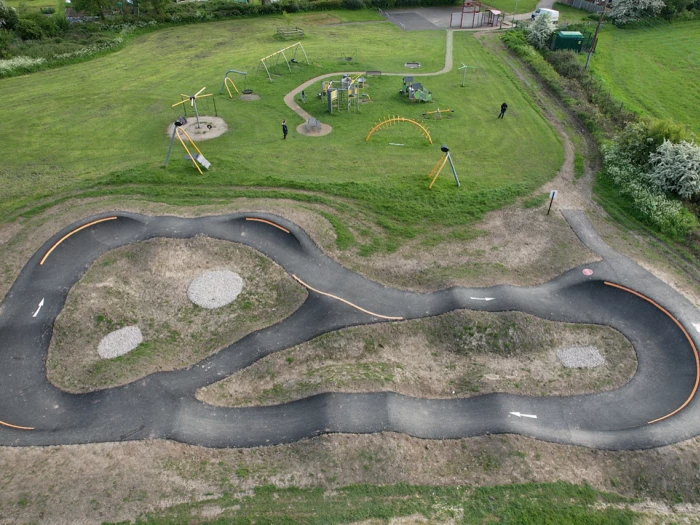 Bretts Hall Pump Track
The recently completed Bretts Hall Pump Track in Nuneaton is a remarkable example of community-driven development, brought to life by the collaborative efforts of local residents and the construction expertise of Clark and Kent Contractors. Affectionately named "Harley's Jumps" in memory of a local child, this case study outlines the journey of transforming an underused area into a vibrant recreational space that has reignited community spirit and provided a safe haven for bike-riding enthusiasts.
Project Overview
The Bretts Hall Pump Track project was initiated by a passionate group of local residents determined to revitalise an abandoned space. Milton Keynes City Council embraced the proposal, and Clark and Kent Contractors were entrusted with bringing the community's vision to fruition. The Bretts Hall pump track project was completed in four weeks.
Building Objectives
The key objectives in constructing Harley's Jumps pump track were to:
Foster Community Unity The track is intended to serve as a community gathering point, uniting residents of all ages and backgrounds through shared outdoor activities.
Preserve Local Heritage The track's affectionate renaming as "Harleys Jumps" paid homage to a much-loved local child to create a lasting legacy within the community.
Enhance Outdoor Recreation Harley's Jumps seeks to provide a dynamic and versatile facility that caters to skateboarders, BMX riders, and scooter enthusiasts, thereby promoting healthy, active lifestyles.
Emphasize Safety and Inclusivity The track design prioritised safety, featuring well-marked paths, accessible entry points, and gradual progression to accommodate both beginners and advanced riders.
Pump Track Challenges
Throughout the pup track building project, the team faced many challenges, including:
Limited Budget: The project's limited budget necessitated strategic allocation of resources to ensure the track's quality and safety were not compromised.
Community Buy-In: Gaining widespread community support and consensus on the track's design required extensive communication and involvement of local residents.
Site Preparation: The abandoned area presented uneven terrain and drainage issues, demanding meticulous planning to create a smooth and sustainable track.
Pump Track Solutions
To overcome the challenges, the project team implemented a series of solutions. The first of these was efficient resource management. Clark and Kent Contractors leveraged their experience I'm BMX pump track building to optimise resource usage without compromising on track quality and safety. We also held regular town hall meetings, workshops, and surveys to actively involve local people in the design and decision-making process. The track-building team also invested significant effort in levelling the terrain and installing drainage systems, ensuring the track's longevity and functionality. We also established a close partnership with the Milton Keynes City Council to facilitate and streamline relevant permissions and approvals.
Building The Pump Track
The construction phase began with careful earthworks to create the desired track layout. Using specialised pump track surfaces, the team ensured optimal traction and rider experience. Landscaping elements, such as seating areas and green spaces, were thoughtfully incorporated to encourage community interactions and spectator enjoyment.
Harley's Jumps has exceeded all expectations and become the heart of Nuneaton's outdoor recreational scene. The track's successful completion and its heartwarming renaming have rekindled community spirit, bringing diverse groups together under one shared passion. Residents of all ages and skill levels now converge at Harley's Jumps, forming new friendships and fostering a strong sense of belonging. Moreover, the track has successfully reinvigorated the surrounding area, leading to increased footfall and patronage for nearby businesses, thereby benefiting the local economy.
Conclusion
The transformation of the Brett Hall Pump Track into Harley's Jumps stands as a testament to the power of community collaboration and dedication. Clark and Kent Contractors' expertise, coupled with the unwavering support of the Milton Keynes City Council and the local community, has breathed life into a once-neglected space. Harley's Jumps not only offers an exhilarating recreational experience but also epitomises the value of preserving local heritage and community engagement in shaping shared public spaces.