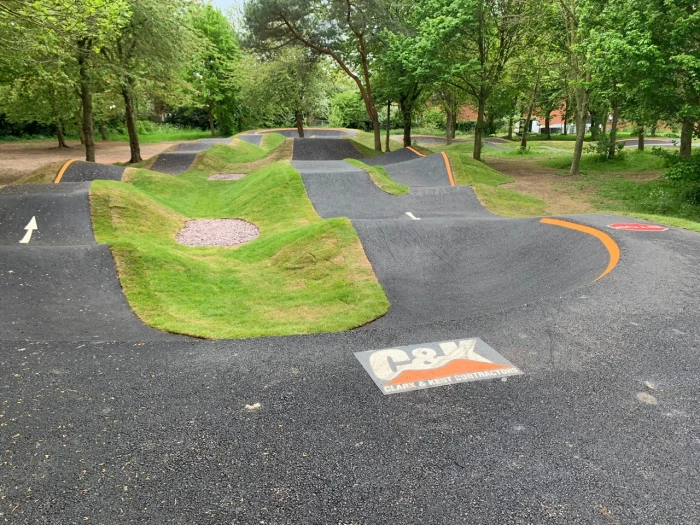 Upton Lane Pump Track
Upton Lane in Shrewsbury is an exciting single-rider BMX pump track designed and built by Clark & Kent Contractors in 2009 for Shrewsbury and Atcham Council. In 2021, we were approached by Shrewsbury Town Council to update the track.
Clients wanted a new pump track layout, taking into consideration the views of local residents, user groups and stakeholders. We redesigned and moved the track to a more central location within the footprint and added an exciting new learn-to-ride area for the younger users.
The learn-to-ride track at Upton Lane is designed to build confidence and skills for users to progress to the main track just next to it. The smooth-flowing nature of both tracks has given the local BMX riders a great boost. The tracks cater for all ages and abilities, with the safety and progression of all abilities accounted for.
The Upton Lane project was completed in just five weeks, including all subsoil shaping and compaction. Work included the removal and refitting of safety signs as well as some tree canopy height adjustments. It also involved Tarmac laying, landscaping, and turf works to create an attractive finish.
Certified by RoSPA safety guidelines, the pump tracks demonstrate the need for this facility. It is often full to capacity, and the council has received many complimentary letters praising the investment in parks and green open spaces.
A map and photos of the Shrewsbury pump track feature on the Shropshire Council website here and is also recommended on the Shropshire Family Information Service website.