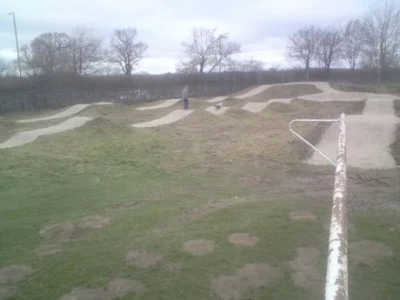 Harlescott pump track builders
Shrewsbury Town Council tendered to construct a new cycling facility, and Clark & Kent Contractors were chosen to carry out the BMX track construction work. Clark & Kent has completed several pump track building projects in the area and has received many favourable references from clients.
The pump track on land off Little Harlescott Lane was completed in line with our tried-and-tested comprehensive in-house specification, as used in many of Clark & Kent pump track building projects across the country.
The pump track building works at Harlescott included site measuring and marking out, a site strip and the importation of suitable fill material, placement, compaction and formation of the pump track, sub-base surfacing and a landscaping scheme.
Shrewsbury's Harlescott track is a low-budget, small play track designed to give new riders the confidence and ability to explore bigger, more challenging BMX tracks. The track off Little Harlescott Lane is in open fields next to a children's playground. Overall, a great BMX track riding provision now exists for the local area and adds to the number of pump tracks constructed by Clark & Kent in and around Shropshire.
Harlescott is a pleasant suburb to the north of Shrewsbury town centre, near the A49 Battlefield area. There are several shopping areas and retail parks in the area, which has seen considerable development over the years.