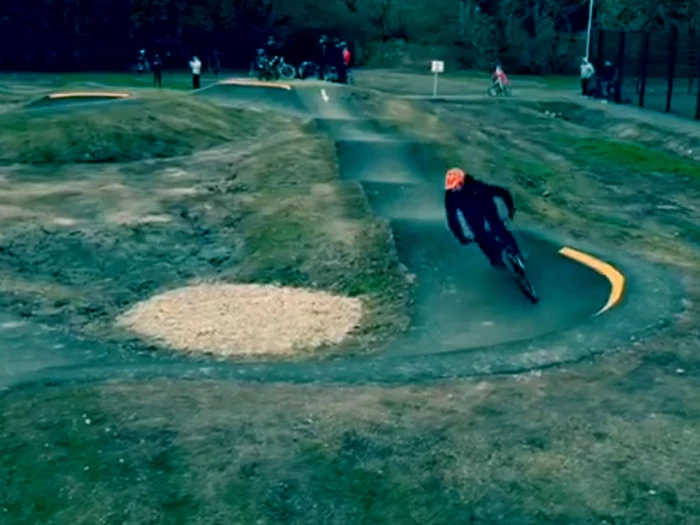 Building Moor Road pump track Farnborough
The creation of a new BMX pump track in Moor Road, Farnborough forms the final part of the development by Rushmoor Borough Council to develop a "state-of-the-art destination playground" for the local community.
Clark & Kent was chosen to build the pump track because of their experience of working in public open spaces next to existing play equipment. The council asked Clark & Kent to carry out the final part of construction and use their landscaping expertise to carry out all the remedial and reinstatement work after other contractors had finished.
The Farnborough pump track was constructed in the winter months and delivered on time and on budget. The pump track building work took around five weeks. The park now has recreational provisions for all types and ages through a wide range of activities.
Development of the Moor Road recreation ground, next to Farnborough Football Club, includes a new BMX track, outdoor gym exercise machines, a ball court and a car park. Outdoor gym equipment is sited in two areas within the park, with equipment funded by PEBL (Prospect Estate Big Local). There is also a multi-use games area (MUGA) as well as the BMX pump track at the park in Moor Road, Farnborough, GU14 8HW.
The local council was very impressed with the return on investment and is looking to construct similar projects in the borough. We look forward to engaging in similar track-building projects. See this video of the Moor Road pump track at Farnborough in action.
Clark & Kent won the tender for our facility in 2019 providing an inspirational design for a facility that would encourage both beginners and experienced users alike. The Covid pandemic hit in March 2020 which delayed the project but in spite of a backlog of work once the country reopened Clark & Kent managed to get on-site throughout the difficult autumn/winter to complete the project. Throughout this time communication with the company was very good with regular updates being provided. The outcome is that we are very pleased with the facility that provides excellent value for money and would have no hesitation in recommending Clark & Kent for any future work.
Martin Sterio – Rushmoor Health & Physical Activity Officer