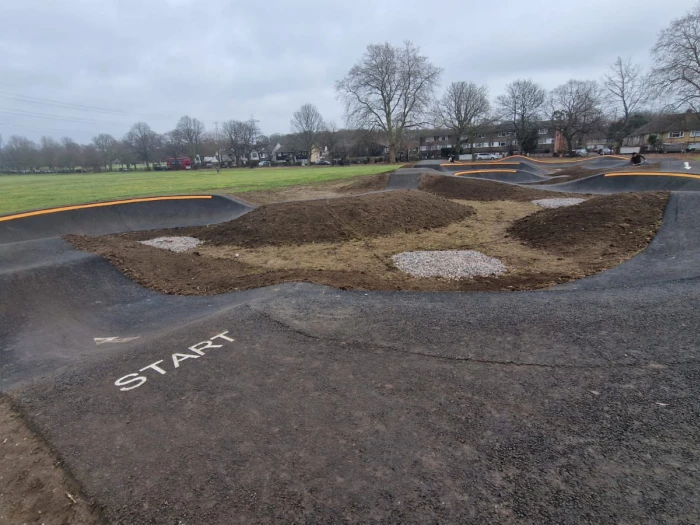 Rosehill Pump Track
Sutton Council invited Clark and Kent Contractors to design and build a pump track at the Rosehill Recreation Ground site in Sutton, South London. Clark & Kent carried out a public consultation on the design and pump track building work started in November 2022.
Experts at Clark & Kent worked alongside the council's parks team to establish good site access, which meant we made good progress despite unfavourable weather conditions and shorter working hours at this time of the year.
Rosehill Recreation Ground is an old landfill site, so special consideration was given to avoid disturbing any of the protective capping layer. A sympathetic site strip was undertaken to start setting out the footprint of the track.
The substructure of the track footprint was been set out before applying a membrane and Type 1 stone before shaping and compaction. This process is vital to ensuring the longevity of the final tarmac track surface.
The team also installed an access path to the car park and safety barriers with road markings. The track markings and directional arrows were also delivered as part of this scheme, and the finished track was given a RoSPA safety certificate.
The Rosehill pump track was completed in just five working weeks, from the removal of all the organic material to the final landscaping and grass seeding. The Rosehill pump track project was delivered on time and under budget, and Sutton Council was overwhelmed by the positive response from locals and visitors to the park, hailing it as a great success and a valuable asset to the community.