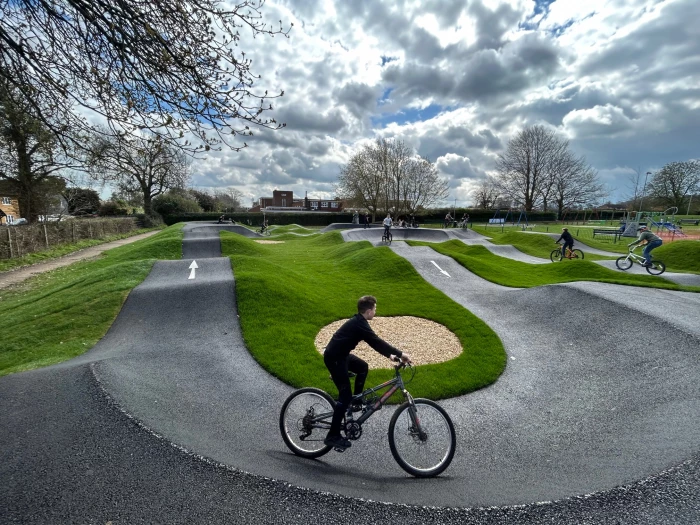 Buntingford Pump Track
Buntingford Council had five potential sites for this pump track project. After consultations on the best return on investment and most efficient build process, we settled on the Bowling Green Lane site for an all-weather pump track for all ages and abilities.
The sensitive location meant this pump track needed careful planning to avoid damage to existing trees and to leave the existing playground facilities accessible.
Working with the council we established the most efficient design and implementation. Buntingford Council wanted a full turf scheme added to the project and a quick turnaround to ensure the track was open in time for the school summer holidays.
We anticipated a wet start to the year, but it turned out to be relatively dry, and we made good progress. We saw the pump track take shape in just three weeks and ready for the tarmac application well ahead of schedule. We completed the Buntingford pump track build in just six weeks. Groundworks, landscaping, tree planting, surfacing, fencing, safety signs and track markings were all taken care of in-house by Clark and Kent Contractors.
The track design includes three elevated starting platforms to minimise the chance of collisions and gives all pedestrians and users clear sight lines around the track. The track layout ensures there are no visual barriers affecting performance and participation. A young novice rider with no experience still has the same excitement, user experience and safety as an experienced user.
All the track tread is at least 2.25m wide for a safe but fun ride for all levels and types of users. The track footprint is approximately 55m x 40m and nearly 300m in length if ridden one way.The pump track is marked with eight directional thermoplastic arrows and thermoplastic cycle logos on the start areas for user safety. The track includes nine berms, 11 straights and over 25 features.