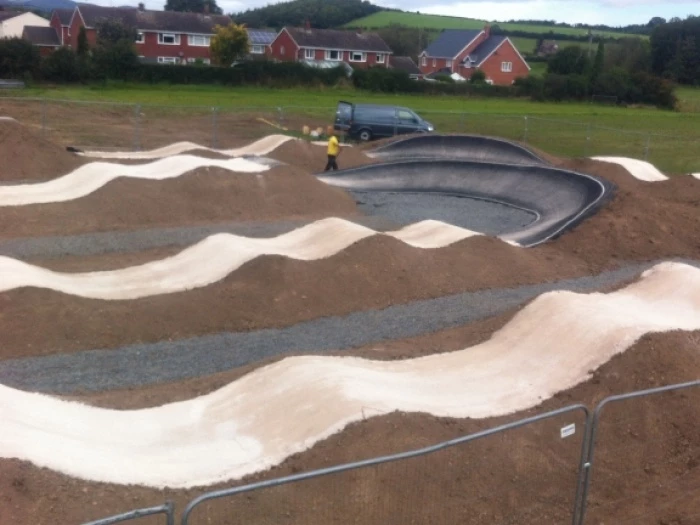 Craven Arms pump track construction
Shropshire District Council commissioned a new BMX Pump Track at Craven Arms on the Welsh borders. Clark & Kent Contractors designed and implemented the BMX track build in a three-week construction period at the end of summer.
Set in beautiful Welsh border countryside with picturesque views of the surrounding hills, the team at Clark & Kent constructed asphalt bends and distinct jumps as part of the site build.
The Craven Arms track is unique in that it incorporates a return berm that enables BMX riders to ride repeated laps around the circuit. As well as the main track build, Clark & Kent also laid out a comprehensive drainage scheme for the project and added specialist surfacing and landscaping the whole site. Shropshire Councillors and Craven Arms Town Councillors officially opened the track while Wrekin Riders gave BMX trail riding displays.
The BMX track was funded by a grant from the Community Spaces programme of the Big Lottery and supported by Shropshire Council's outdoor recreation team and Craven Arms Town Council. Craven Arms Area Youth Group took on the role of developing the project and applying for funds. BMXTalk said of the project:"Craven Arms in Shropshire is the latest place to be on the receiving end of some C&K love. The latest pump track looks as dialled as ever and a lot of fun."
The Craven Arms pump track is located on the town playing fields next to the Craven Arms Community Centre at Craven Arms, Shropshire, SY7 9QD. The playing fields are managed and maintained by the town council and include a large field with a football pitch, a skate park, a child play area, an artificial cricket square and the BMX track. You can read more about the Craven Arms BMX pump track on the Shropshire Council website here.