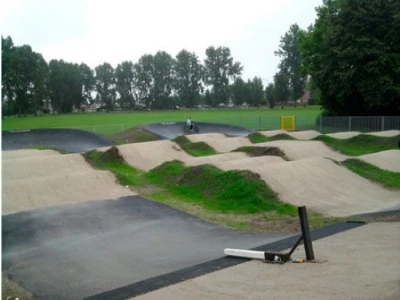 Donnington pump track building
Clark & Kent Contractors were contacted by Telford & Wrekin Council to construct a four-person BMX pump race track with a start gate at Donnington in Shropshire.
The call followed remedial work that was carried out on several other tracks in the county. The Donnington facility is a progressive pump track suitable for all BMX riders, from beginners to experts. The Donnington BMX pump track features asphalt turns, perimeter fencing and an all-weather compacted surface.
The pump track is currently used by the Wrekin Riders BMX Club, which is affiliated with British Cycling and the only cycling club in the area to become a 'Go-Ride' club. Wrekin Riders welcome all riders to go along and take part in club events and recommend that new riders go around the track a few times before attempting to race as they consider it an excellent introduction to BMX racing.
The pump track lets riders build up their racing skills before tackling several full-size BMX racing tracks in the area. Wrekin Riders BMX Club offers weekly coaching sessions by British Cycling qualified, first aid trained, CRB-checked staff. Check out the Wrekin Riders BMX Club Facebook page here.