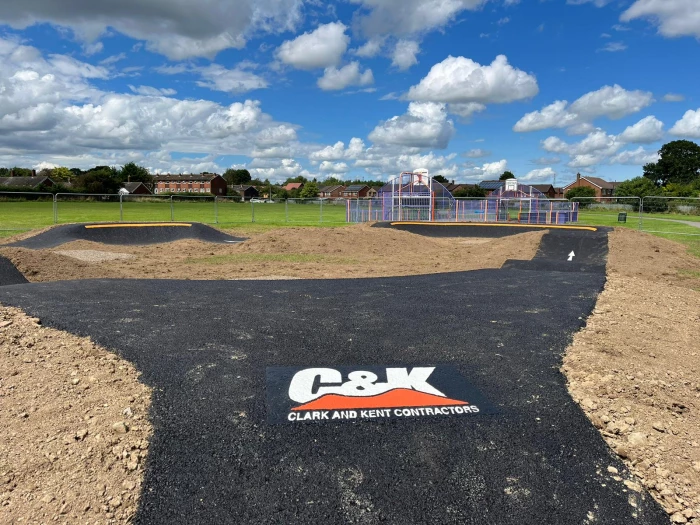 Kynaston Road Pump Track Uniting Shrewsbury's thrill seekers
Clark and Kent Contractors recently completed the Kynaston Pump Track project located in the heart of Shrewsbury, just a mile away from the larger Moston Rd Pump Track. The track was commissioned by the Shrewsbury City Council to provide an exhilarating recreational space for the younger local enthusiasts.
The primary objective was to create an adrenaline-pumping facility for thrill seekers, catering to BMX riders, mountain bikers, and skateboarders of all ages. The track was designed to offer a variety of jumps, berms, and technical features, challenging riders and encouraging skill development on a slightly smaller scale than its sister track at Moston Rd
Challenges during the project included striking a balance between thrilling features and safety, as well as incorporating the track seamlessly into the surrounding landscape. The team at Clark and Kent tackled these challenges with precision, implementing safety measures without compromising the track's excitement and ensuring a smooth integration into the natural environment.
The completion of the Kynaston Pump Track has invigorated Shrewsbury's outdoor recreation scene, becoming a magnet for young thrill-seeking riders from across the town. The track's design and diverse features have transformed it into a community hotspot where riders bond over shared passion and push their limits together.
Local residents and riders have expressed overwhelming enthusiasm for the Kynaston Pump Track, applauding Clark and Kent Contractors for their commitment to creating an exceptional recreational space. The track's impact on fostering camaraderie and promoting an active lifestyle has been widely celebrated throughout Shrewsbury.
As a thrilling addition to Shrewsbury's recreational landscape, the Kynaston track exemplifies the power of carefully designed public spaces to unite communities and provide an outlet for adventure and self-expression. Its success stands as a testament to Clark and Kent Contractors' dedication to delivering exceptional pump track experiences that resonate with riders and leave a lasting impression on the community.