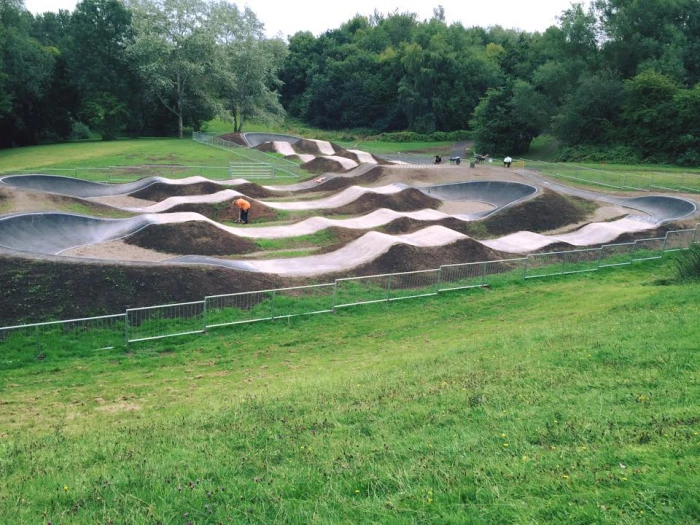 Wombridge pump track construction
The BMX Pump Track at Wombrige, Dawley in Shropshire, is part of the redeveloped Phoenix Academy, with national and regional standard facilities for several sports. Telford & Wrekin Council approached Clark & Kent Contractors to build a BMX pump track at this prestigious site.
A small purpose-built two-straight pump track has a tarmac-surfaced starting hill, footpath and berms along with a typical stone sub-base and a limestone surface. The 390-metre track includes an elite section for professional riders and a development track for young children and novices. Kieran Edwards of Wrekin Riders BMX Club said: "It's great to see young kids riding and learning new skills; it's all come together brilliantly ... This new track opens lots of doors to BMX enthusiasts".
The track was built with funding from Sports England, Co-operative maintenance and Telford & Wrekin Council and is part of the Phoenix site, which houses the Phoenix Academy, Dawley Library and a sports centre.
The client was thrilled with the final results, which accommodated the ever-changing needs of BMX riders and other users while meeting full RoSPA safety requirements. The scheme is part of the Wombridge Skate Bowl which features a skate bowl, BMX track, basketball park and small shelter.
The Phoenix Academy School opened in 2013 and has 900 pupils and sports facilities for the community to use. It was built as part of Telford & Wrekin Council's £200m Building Schools for the Future programme, which aimed at rebuilding or remodelling every secondary school in Telford and Wrekin. The Phoenix Academy project also attracted a £1.5m contribution from Sport England to enable the building of an eight-court sports hall, national standard BMX track and a full-size pitch for rugby and football as well as a health and fitness suite. The Phoenix Academy is part of a multi-academy trust which also incorporates the Sutherland Co-operative Academy and the Wrockwardine Wood Arts Academy.
Client: Telford & Wrekin Council