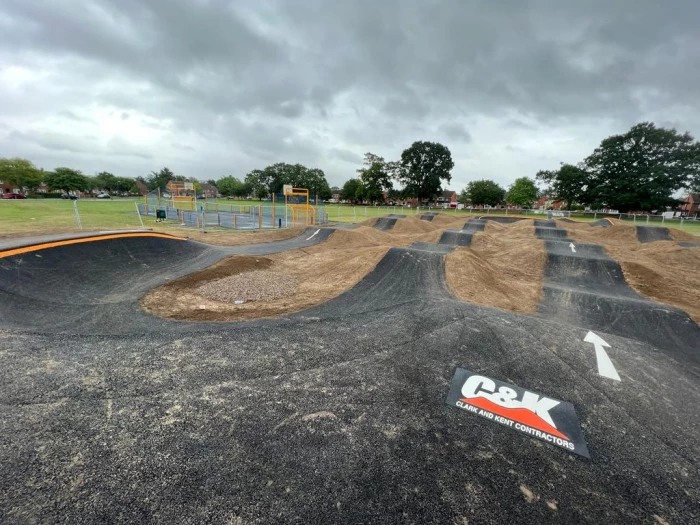 Moston Road Pump Track Revitalizing Shrewsbury's recreation scene
Clark and Kent Contractors, known for their expertise in pump track construction, recently completed the Moston Road Pump Track project in Shrewsbury. The project, aimed to create a vibrant recreational space for the local community and visitors, was commissioned by the Shrewsbury City Council.
The objective was to provide an engaging recreational facility for cyclists, skaters, and scooter riders, encouraging active outdoor activities while emphasising safety and accessibility in order to accommdate riders of all skill levels in a family-friendly environment.
The project faced many challenges with limited space for construction and strict safety regulations. However, the team at Clark and Kent used innovative design solutions to make the most of the available space and ensure the track complied with exacting safety standards.
During construction, careful earthworks were undertaken to create the desired track layout, and top-quality construction materials were used to guarantee its longevity and durability. A specialised pump track surface was installed to improve traction and enhance rider experience.
The Moston Road pump track has revitalised Shrewsbury's outdoor recreation scene, becoming a popular hub for community gatherings and outdoor activities. The track's versatility attracts riders of all ages and skill levels, fostering a sense of camaraderie and healthy competition among users.
The integration of the pump track into the landscape has garnered positive feedback from local residents, city officials, and riders.As an engaging and dynamic addition to Shrewsbury, the Moston Road Pump Track is a shining example of how thoughtfully designed public spaces can bring communities together and promote an active and vibrant lifestyle.