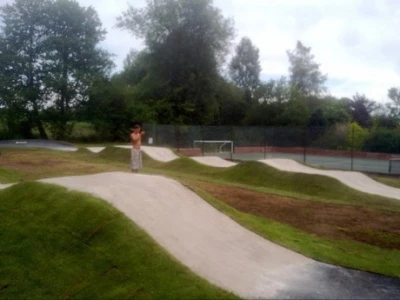 Kinnerley pump track building
Youngsters celebrated the official opening of the Kinnerly village BMX pump track, built by Clark & Kent Contractors, after 18 months of fundraising. Young people joined forces with Kinnerley Parish Councillors to create the track, and residents saw it opened by Priscilla Hilton-Jones from the Hilton Jones Charitable Trust.
A call was made for the BMX pump track in the Kinnerley Parish Plan, and young residents started fundraising events and managed to raise £2,000 for the project. Additional funding came from Shropshire Council's Local Joint Committee, the Hilton Jones Charitable Trust and the Lottery Fund.
Kinnerley Parish Clerk Kate Sanderson said, "The success and support given to the local fundraising efforts is a testament to the support that this project has enjoyed. The feedback from the young people of the village is excellent. They are very pleased with it. Clark & Kent has provided a magnificent facility for the local community".
Consultation on the pump track building took place with the local Police team, Shropshire Council and RoSPA. When all funding was in place, the Parish Council gave BMX track builders Clark & Kent Contractors the go-ahead.
The Kinnerley pump track is a small, simple single-circuit track for BMX beginners and is located next to tennis courts opposite Kinnerley Parish Hall.