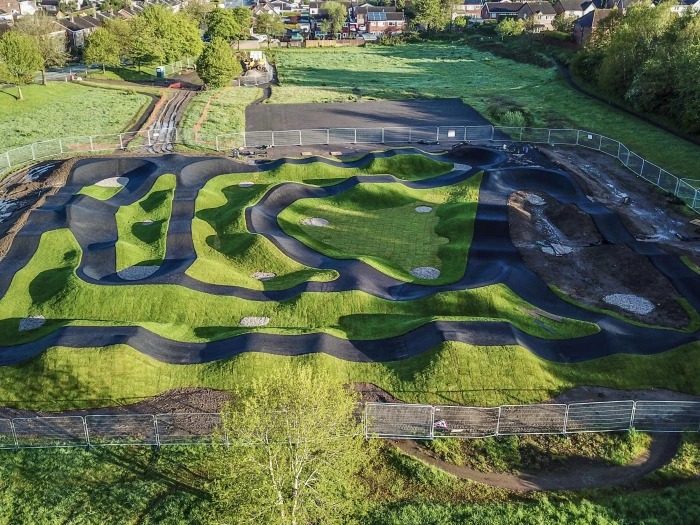 Kidsgrove pump track construction
Newcastle under Lyme Borough Council secured funding and raised a tender to build a new multi-wheeled BMX pump track near our home city of Stoke on Trent. We won on quality, cost, experience, and a strong list of National Health and Safety accreditations such as CHAS, Constructionline, and Acclaim.
We put forward the most economically advantageous tender, showing our experience and professionalism in building BMX tracks, coupled with our enthusiasm to give something back to our local community.
We undertook the Kidsgrove pump track build in the summer of 2021. Initial consultation was undertaken with some design adjustments to add extra extras and loops. The project was a six-week pump track building programme that included fencing and securing the site, installing control measures, safety signage and notices and tree protection and root protection measures. Track construction involved marking and setting out, site stripping and clearance, drainage works, sub-base works, Tarmac surfacing and a turfing scheme.
The Kidsgrove pump track at Chiney Park, off Newchapel Road, is our home track, and we are very proud to have been able to create a multi-wheeled track of this size and scale just a short drive away. Added options for expert-level BMX riders give this facility an additional twist. Another great BMX track for the portfolio demonstrates why we hold the prestigious title of the best in the business.
Pupils from nearby schools brought their bikes along for the official opening and tested the track with Olympian BMX rider Kyle Evans. The pump track at Newchapel Recreation ground is suitable for all ages and abilities and features elevated starting platforms and plenty of jumps and obstacles, including berms, rollers, angled rollers, table tops, doubles, and even a shark fin and a left-handed hip jump. The Chiney Park pump track is suitable for BMX bikes, rollerblades, scooters, skateboards and wheelchairs.
The track was paid for with part of a Town Deal funding award allocated to Kidsgrove and aimed at improving health and wellbeing in the town. Money was spent on a range of projects, including the refurbishment of Kidsgrove Sports Centre and upgrades at Clough Hall Park.