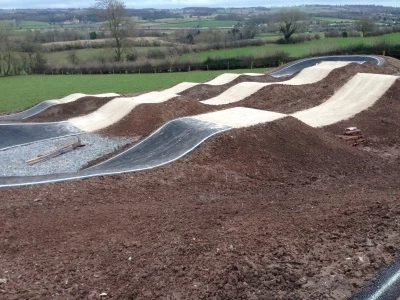 Standon Bowers pump track building
The BMX pump track built by Clark & Kent Contractors at Standon Bowers Outdoor Education Centre was constructed for Staffordshire County Council. The project was aimed mainly at providing a beginner's BMX bike riding experience for primary school children.
Access to the BMX track site is through a private farm, so significant consideration was needed to be given to the design and construction of the project to minimise any impact on the rural surroundings. The BMX track building project took four weeks to complete, with experienced staff from Clark & Kent Contractors overseeing all elements of work.
The track is cut into a sloping site, which enabled Clark & Kent to develop a design that helps combine BMX rider safety with a fast-flowing circuit. Clark & Kent incorporated a tarmac start hill, sloping berms and return paths as well as laying the track out with a limestone surface. In addition to the pump track, Clark & Kent also erected a 90-metre stone footpath and a fence to ensure the facility blended well with the surrounding countryside.
Formerly the Standon Boys' Farm Home, established in 1885, Standon Bowers offers state-of-the-art facilities and activities to challenge and engage its students. Since completion, the BMX Pump Track has given the Outdoor Education Centre the provision to help develop life skills and confidence-building among its students. The centre, located in Weston Lane, Standon, Staffordshire, also offers archery, bushcraft, climbing, caving, scrambling, watersports and trekking.
Client: Staffordshire Education Trust