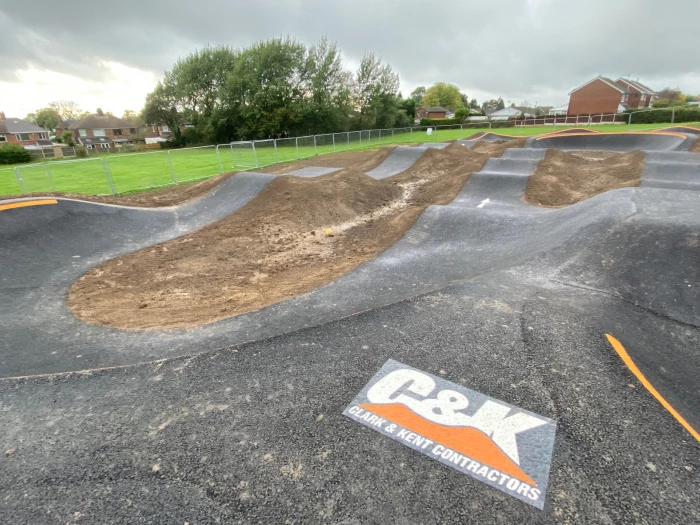 Werrington pump track building
Werrington Parish Council was awarded a £25,000 grant to install a new pump track at Meigh Road playing fields, following a successful application to British Cycling's 'Places to Ride' capital grants programme.
The grant followed work with Clark & Kent Contractors to develop a pump track brief and design for a new multi-use tarmac mini-wheels track through 2019 and 2020. The funding was matched by Staffordshire Moorlands District Council to enable the installation of the pump track at the bottom end of the playing fields near Ash Bank in Stoke on Trent.
The Parish Council conducted public surveys and worked with local schools and residents to identify what was needed. Working with the user group and clients at the design stage meant that Clark & Kent could design features into the track, such as the shark fin obstacle and bigger doubles, to meet specific design needs.
The pump track was built using a cut-and-fill process to integrate the track into the existing topography. The track is around 250 metres long and at least two metres wide to offer BMX bike riders a wide range of jumps and obstacles to keep them engaged.
The pump building period was six weeks, and the site had challenging access and surface water problems. Clark & Kent designed a drainage scheme and track to suit the site and client's requirements, and users are delighted with the result.
As with most pump track building projects, we offered a turnkey solution for the client from concept design through construction to completion. Clark & Kent is considering other projects for the client following the Meigh Road Pump Track design and construction success.