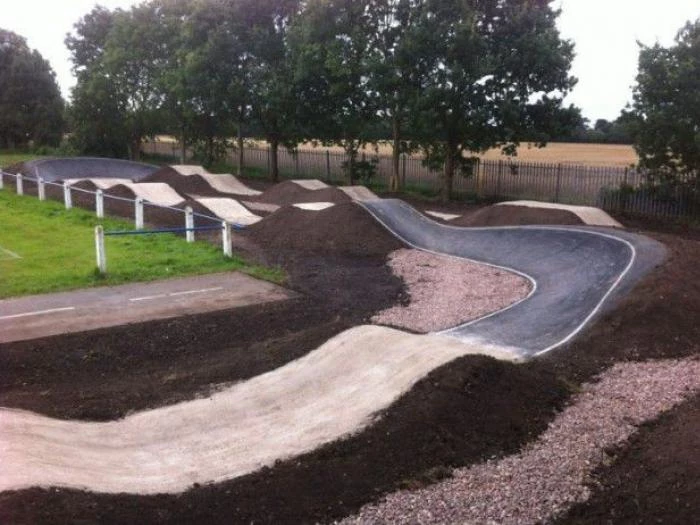 Tamworth pump track construction
Clark & Kent Contractors work alongside the Tamworth BMX Club and local councils to construct a bespoke pump track design that makes excellent use of space.
The BMX pump track at Mile Oak in Tamworth, built on a recreation ground, is unconventional in design. The BMX area had to fit in the corner of an existing playing field next to a football pitch.
Mile Oak is a four-rider BMX track and somewhat of a scaled-down version of a full-size BMX track. The track incorporates four straights and three 180-degree bends, is around 300 metres in length, and features a range of jumps and obstacles that progressively test the riders' ability.
Comments from supporters have been very favourable, including this from BMX Talk: "The boys Clark and Kent have done it again, this time over in Tamworth. The space has been used to perfection, and the set-up looks both challenging and fun. Believe us when we say we have experienced various new 'pump tracks', and most wouldn't be worth getting out of bed for, let alone a full session. Get down to this for some skills training asap."
The track has asphalt berms, rollers, a jump box, and the usual limestone dust track surface. The BMX project was paid for with a grant awarded by Veolia Environmental Trust through the Landfill Communities Fund.
Clients and Tamworth BMX Club are delighted with the finished product. Lichfield District Council supported the track project, along with Fazeley Town Council, Bromford Living, Lichfield and District Community and Voluntary Services, Staffordshire County Council, Tamworth BMX Racing Club, Fazeley Wheels, and young people from the area.