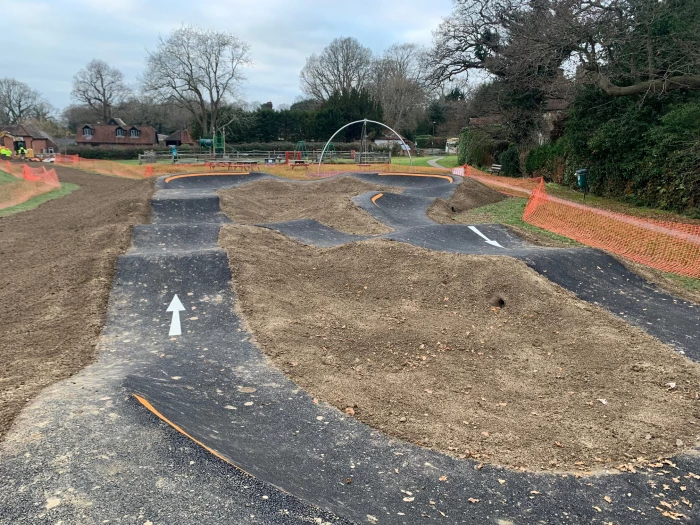 Bolney pump track builders
The Bolney village pump track in West Sussex is a small community project perfectly designed to cater for all ages and abilities while in keeping with the village look and feel.
Clark & Kent worked closely with the council to establish the needs of the local user groups. We delivered a well-rounded pump track on the community centre playing fields designed to appeal to experienced BMX riders and provide a safe track for youngsters.
The Bolney pump project was completed during the run-up to Christmas 2021 and completed in January 2022 with a RoSPA inspection and safety signage installed.
We normally have a strict rule that nobody walks on the tarmac until the handover is complete, but due to the Christmas break and the soil and seed option selected by the client, the track looked a little muddy on our return, as the pictures show.
But some landscaping work and track settlement soon had the pump track cleaned up and looking much better. A few weeks will see the grass coming through and the area returning to pre-installation condition.
The 80-metre-long Bolney pump track is surfaced with tarmac to create a smooth ride and ensure children are able to use it all year round. The track is designed to be used by riders of all ability levels, from a novice rider with no experience to an expert who has been riding for years.
Bolney is a village in West Sussex, about 10 miles north of Brighton. Nearby towns include Burgess Hill to the southeast and Haywards Heath to the east. In the heart of the village is the Bolney Wine Estate, established by the Romans nearly 2,000 years ago.