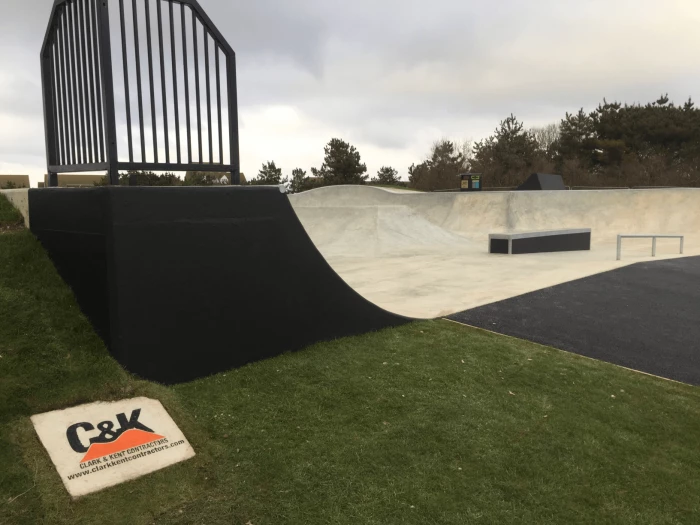 Sovereign Centre skatepark building
The original wooden skatepark at the Sovereign Centre, Eastbourne, served the local mini-wheeled community for well over ten years, developing a large, enthusiastic user group. Due to plans to extend the Sovereign Centre, the long-standing successful wooden skatepark had to be relocated 100 metres east along the promenade.
Following a public tender, Clark & Kent Contractors was awarded the contract to design and build the new skatepark. Working closely with the mixed user group and public consultation, Clark & Kent produced a unique design to blend perfectly within the existing landscaped area, surpassing the requirements and ambitions of the enthusiastic user group. All stakeholders and key users were engaged and consulted on the final proposals before skatepark construction.
Construction started in December 2019 and, with an inspired effort onsite, the team made significant progress through the harsh winter months. The project was completed in March 2020 on time and within budget.
The ambitious skatepark design was greeted with enthusiasm from skatepark users and the broader community of Eastbourne. The construction period was 14 weeks from the commencement of skatepark building works carried out for Eastbourne Borough Council.
Sovereign Skatepark is an exciting project built on the seafront in Eastbourne a little further up the beach from the old skatepark that was demolished in 2016. Nearly 2,000 people took part in a survey on skatepark designs and consultation included workshops with local skateboarders.
The skatepark is located right on the seafront on Prince William Parade to the east of the Sovereign Leisure Centre. With the beach just a few metres away, riders often experience windy conditions but some protection is offered by a row of trees. You can read more about Sovereign Skatepark at Eastbourne here.
Here is some footage of Eastbourne skatepark by local film editor Ben Campbell. Thanks for letting us use the video, Ben.