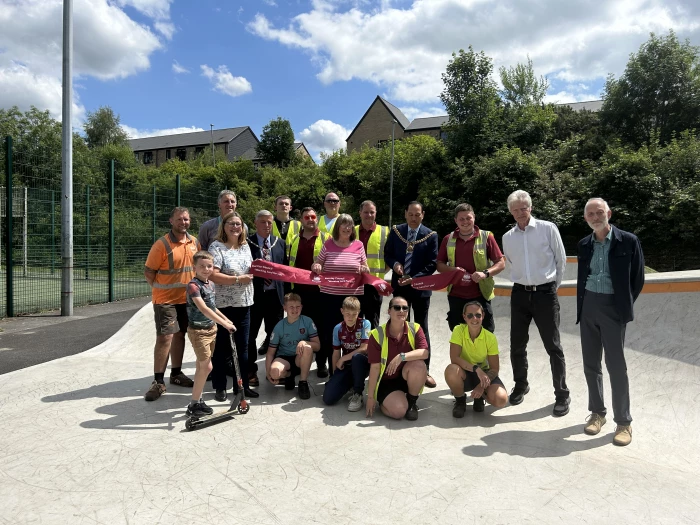 Padiham Skatepark Construction
Padiham Skatepark is situated just off Park Road in the Lancashire town. It is a replacement facility for an old metal half-pipe that had defiantly seen a lot of use in its time. Burnley Council asked us to construct a concrete wheeled sports area for skateboards, scooters, and BMX bikes to replace the existing metal skate ramp installed in 1992.
We proposed this W-style ramp with roller, spine and hip jump box as the perfect solution to fit perfectly into the allocated area. After removing all the organic growth, we added type 1 stone, compacted in layers to the required height and then carefully sculpted it to the correct layout.
Wooden frames and shutters were formed in situ to provide a sturdy framework to create the desired shapes and transitions and lace up all the ramp faces with reinforced concrete. Once completed, we provided two tarmac paths to gain entry and a tarmac safe zone away from the road, where skatepark users can rest between sessions.
The skatepark was finished off with turfing surrounds. The project took six weeks to complete. The ongoing revenue costs of maintaining the wheeled sports area are expected to be modest as the concrete-constructed ramps will require little maintenance.
The new Padiham skatepark has been a big hit with local boarders, and we have received great feedback. The scheme is part of a larger council project to develop Park Road facilities, including a ball court upgrade, repainting tennis courts, updating a children's play area and refurbishing a youth shelter.
A report to Burnley Council recommended Clark & Kent for the skatepark project. The report said: "The council has employed Clark and Kent previously to construct the wheeled sports area in Hargher Clough Park. They completed the project to a very high standard, and it is recommended that this firm should be appointed."
The Padiham skatepark borders the town's Memorial Park, the main public park in Padiham. It comprises two sites linked by a riverside walk along the River Calder. Padiham is a town and civil parish on the River Calder, about three miles west of Burnley, Lancashire.