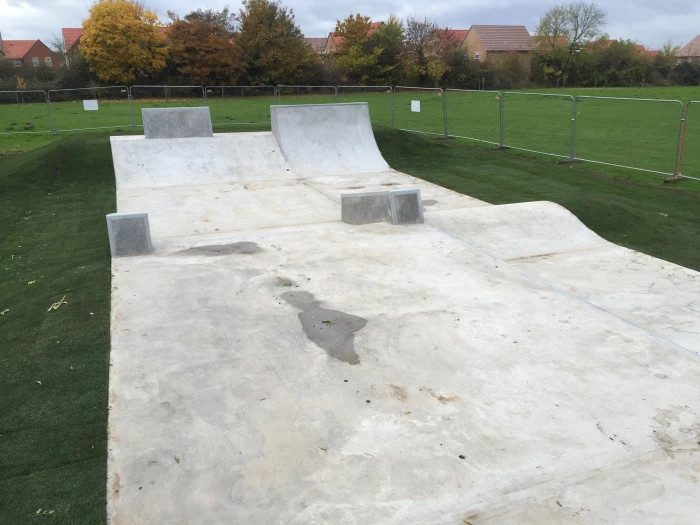 Saxmundham skatepark construction
Clark & Kent Contractors were selected to build the skatepark at Saxmundham for Freestyle Skateparks on a sub-contract basis. Clark & Kent were chosen due to their attention to detail, experience in concrete finishing and exemplary track record in working for local authorities and councils. All construction work was done in-house, with Freestyle developing the overall design.
Clark & Kent and the client worked dynamically to update and micro-design elements of the skatepark to improve safety and flow. Saxmundham Town Council was thrilled with the final skatepark finish and has since recommended us for other local projects in the skatepark sector.
The Saxmundham skatepark construction process was typical in scope, but extra ground protection matting was laid across the football pitch in the public open space playing field. Construction works were completed on time and within budget, and the finished product surpassed the expectations of the user groups and the RoSPA inspectors.
Saxmundham skatepark is a concrete skatepark built as a back and forth with split level and plaza and found at Gilbert Road, Saxmundham IP17 1FE. The skatepark was designed by Freestyle Skateparks and built by Clark & Kent Contractors.
Funding for the skatepark build was found from Saxmundham Town Council and SAVVY (Saxmundham And Villages Volunteer Youth), which worked with Suffolk County Council and Suffolk Coastal District Council to get the skatepark built.
Friends of Saxmundham Skate Park, A group of people from within the Saxmundham community working together to make the skate park a success., have a Facebook page here. There's a video of the Saxmundham skatepark opening day here.
Saxmundham (known locally as 'Sax') is a historic market town in east Suffolk. With a population of around 5,000, Sax offers an attractive range of local shops and services and two major supermarkets in the centre. For outside leisure activities, the Saxmundham Sports & Recreational Club charity provides sporting facilities such as bowls green, cricket and football pitches, and tennis courts. The site also has an adventure playground for children.