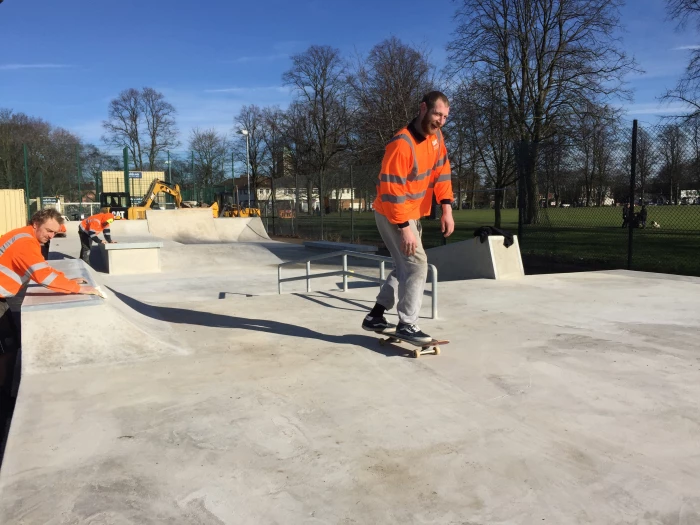 Victoria Park skatepark building
Victoria Park skatepark in Leicester is on the site of a disused basketball court, regenerated to create a small plaza-style skatepark. Construction work for this skatepark project included site setup, site clearance, supplying concrete footings and building reinforced concrete blockwork walls.
When the first building phase was finished, we carried on with the skatepark build with earthworks, introducing reinforced steel and then concreting. Additional Tarmac surfacing work was requested by the client.
Skatepark construction was finished in six weeks. Clark & Kent was the contractor for the oldest skatepark company in the UK, and the client was Ground Control on behalf of Leicester City Council.
Victoria Park was Leicester city's racecourse until 1883 and is now a popular park with 69 acres of open parkland nest to the University of Leicester campus. For more active visitors, the park at Regent Road, Leicester, LE1 7PA, is also home to a bowling green, a croquet area, four tennis courts, football and rugby pitches, two floodlit astro pitches and an outdoor gym.
The former skatepark was very old and had only two obstacles while the new park offers a wide range of obstacles to invite new skaters and challenge the more experienced. There's video of the new Victoria skatepark opening day jam here