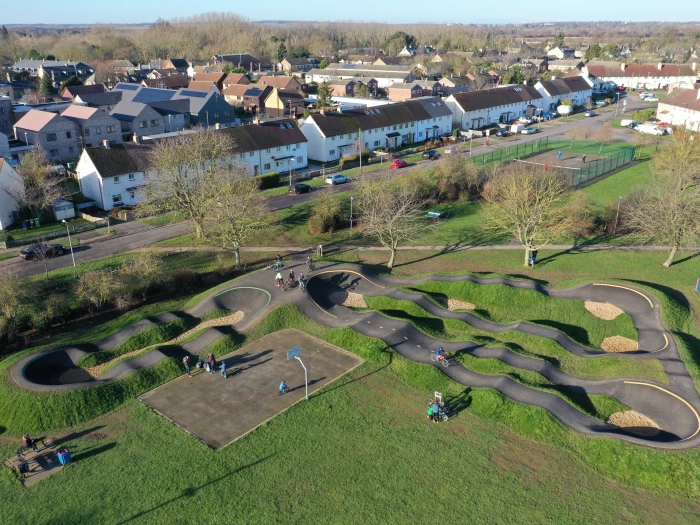 After completing previous projects for Cambridge City Council, we were invited to tender for two new pump track projects in Cambridge.Clark & Kent Contractorswasselected for our competitive tender, and we undertook the Trumpington pump track project in the summer of 2019.
After an initial consultation and some minor design tweaks, the designs for a new pump track were implemented. The project was a six-week programme and included several constraints to include working next to a school, around trees and sensitive access issues.
The scope of work included several typical design and construction-related issues, including User Group and community consultation.
Design and supply of drawings for planning purposes
Pre-construction information.
Fencing and securing the site.
Installation of control measures for pedestrian access.
Safety signage and public information notices
Setting out.
Tree and root protection measures.
Storage of materials.
Drainage works.
Sub-base works.
Tarmac surfacing.
Concreting.
Landscaping and turfing
Maintenance contract
Further online project promotion exceeded 250,000 views in the first three months of opening. As the pump track is near a school, we included a segregated all-ability section within the larger footprint. The all-ability track is shorter and has access from the flat areas to minimise user intimidation and maximise user safety.
C&K provided us with in-depth expertise and high quality in the construction of our new pump track. They showed great flexibility and solved onsite problems when they arose. They thought about the impact of the build on the wider site and made adaptions to accommodate the environmental impact and ensure a quality finish.
They were easy to work with, and they communicated well with us as the client, kept us updated on the progress and explained the process and timeframes of the build throughout. The construction team themselves are riders, and they brought this practical knowledge, enthusiasm and vision to the final installation.
We would have no issues with recommending C & K to others for similar types of wheelsports facility construction." -CambridgeCity Council