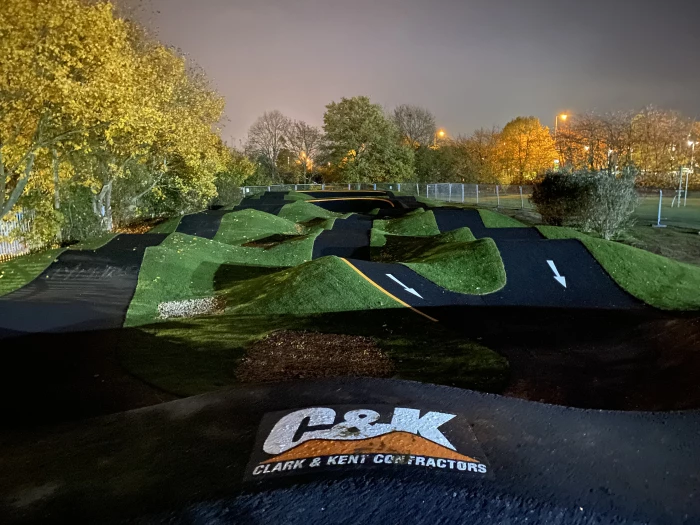 Godmanchester pump track building
Clark & Kent Contractors won the public tender to design and build the Godmanchester Pump Track in 2020. Design, planning and funding took a year or so in the middle of the Covid-19 pandemic, so the start was delayed until 2021, when the budget was in place and all pre-construction items completed.
Godmanchester Town Council felt that Clark & Kent's tender was best fitted to the design brief of building a safe, robust, long-lasting pump track suitable for a wide range of users. The proximity of an existing skatepark meant the pump track would be aimed mainly at BMX and mountain bikers with consideration too for microscooters and skateboard users.
It was decided to link the new pump track to the rear of the skate park to create a large gathering area with clear sightlines to ensure everyone could safely enjoy the whole facility. Landscaping and turf were to give an instant aesthetic finish and blend it in with the well-managed public open space surroundings.
The build time for the Godmanchester pump track project was five weeks, and the scheme was delivered on budget and to the agreed timeline. Clark & Kent invited clients to the site weekly along with an external surveyor to regularly monitor progress and implement any project updates for stakeholders.
The pump track was opened by Clark & Kent's own Olympic athlete Kyle Evans who helped local youngsters enjoy the track as part of Clark & Kent's community benefits package.
The community package includes organising the opening event and other benefits to add extra value to our pump track design and building projects.