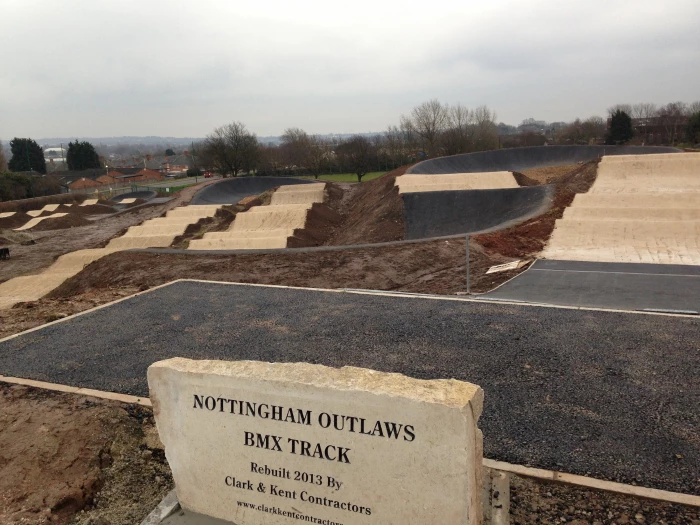 Bulwell pump track construction
The bespoke BMX pump track is constructed by Clark & Kent within the national BMX bike track complex of the Nottingham Outlaws BMX Club.
The club decided to use a spare piece of ground for a pump track to hone the skills of Outlaws BMX club members. Bulwell Parish Council realised the need for an all-user multi-wheeled facility for their community. Clark & Kent Contractors won the tender on quality, cost efficiency, design and consultation.
The track design includes asphalt bends and corners, limestone straights and a variety of obstacles. Clarke & Kent undertook groundworks, specialist surfacing and professional landscaping. We completed the works in four weeks, and the project required an extensive drainage system with special consideration given to the problematic access. The pump track is a fantastic provision where younger riders can hone their skills before moving to the bigger BMX track.
Pump track building works included site measuring, marking out and stripping, and a complete remodelling of the landscape. The track is set in a perfect location, giving users clear sightlines and has many advanced features to keep users entertained.
Olympic BMX star Grant Hill opened both the national course and the scaled-down pump track. Nottingham Outlaws rider Braden Bradford said:"The track now has a greater range of challenges and the new start gate is just incredible. The pump track is great fun too."
On Sellars Wood Drive in Bulwell, the Nottingham BMX track began life in 1987, at the start of the national UK boom in BMX racing. The club dissolved in the 1990s, and the track fell into disrepair, but in 2002 funding was acquired for a basic track rebuild by Clark & Kent. Since then, the club has steadily grown and notched up Sport England Clubmark status. British Cycling qualified coaches run weekly coaching sessions for riders of all abilities, including some at an international level.
Nottingham Outlaws BMX club has its own website and a Facebook page and is open to new members.