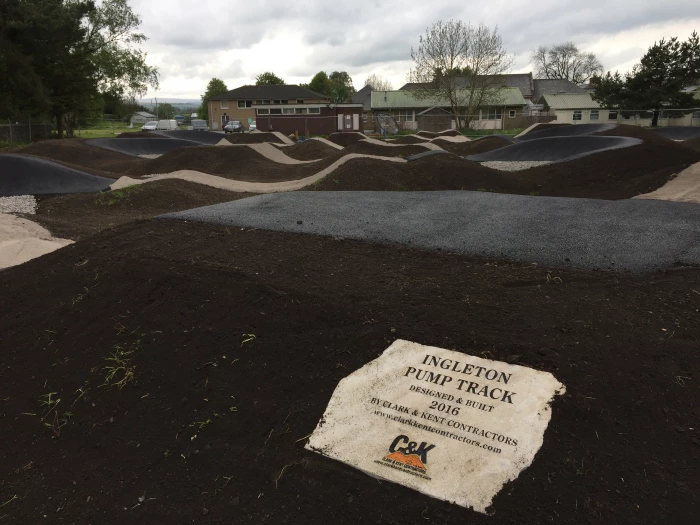 Ingleton pump track construction
The Parish Council for Ingleton in Yorkshire realised the need for a multi-wheeled facility for the local community. The project was tendered for and won by Clark & Kent Contractors thanks to the BMX building specialists' unrivalled experience in supplying this type of BMX pump track project.
The six-week project was delivered on time and within budget. The Ingleton pump track project included such works as a design and drawing package to assist with planning, development of pre-construction information, fencing and securing the site and installing control measures for pedestrian access with safety signage.
Track building involved setting out with the client and the engineer, tree protection measures, site stripping and clearance, drainage works, sub-base works, tarmac surfacing and concreting, as well as the supply and Installation of permanent user signage,
The free-to-use public BMX pump track in Ingleton, North Yorkshire, was built on the old middle school playing fields. Utilising the lie of the land, a design was agreed on to maintain good rider flow and keep the best riding experience possible. The pump track is on Back Gate, close to the i-Centre, and the council advises using the public pay & display parking just a short distance from the community centre.
Ingleton is a village and civil parish in the Craven district of North Yorkshire, 19 miles from Kendal and 17 miles from Lancaster on the western side of the Pennines. The village of Ingleton is on the edge of the Yorkshire Dales National Park and is a popular holiday destination for those interested in outdoor activities. It is surrounded by spectacular countryside with caves, waterfalls, and mountains. The Craven Fault crosses the area, and geological and archaeological sites abound.
The area is well known for its natural landmarks, with two of Yorkshire's Three Peaks, Ingleborough and Whernside, nearby. On the road to Chapel-le-Dale are the show caves at White Scar, while the Ingleton Waterfalls Trail is a popular five-mile circular walk. The Ingleton Viaduct is a Grade II listed structure six miles northeast of the famous Settle to Carlisle railway line.