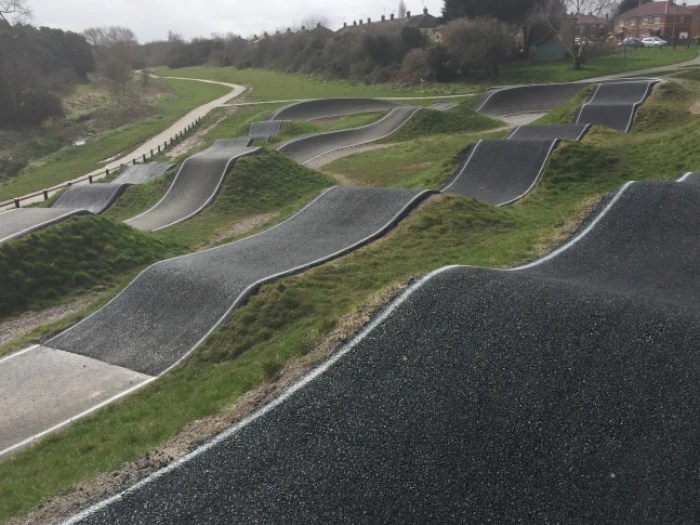 Parklands pump track builders
Clark & Kent were selected to supply and install a multi-use BMX pump and scooter track at the Parklands in Ellesmere Port.
The plan to create a BMX track at the Parklands, located off Valley Drive, was forged by the local Our Place Neighbourhood Action Group and quickly followed through with full consultations with neighbours and nearby residents. Included in the tender were numerous consultation events to develop the design and implementation strategies. The track was constructed in a four-week period in very adverse weather conditions.
The BMX track uses the cascade of the land very well and includes many obstacles to keep it varied and exciting for the BMX riders. A full asphalt surface was provided using specialist techniques, and the track is aimed at a wide range of users, from micro-scooters to MTBs.
The £170,000 project also saw major improvement works to local footpaths due to years of work led by the council's Our Place team in partnership with Groundwork Cheshire. The project was funded by FCC Environment Ltd through the Landfill Communities Fund administered by WREN, the Ellesmere Port Area Partnership Board, Cheshire West and Chester Council and others. WREN is a not-for-profit business that awards grants for community projects, and The Landfill Communities Fund is an innovative tax credit scheme for organisations engaged in community improvement works.
The BMX facility has been applauded for making the best use of the existing site and providing an exciting, attractive and demanding new facility for BMX riders. The creation of a network of new pathways in the area was carried out by County Landscapes and gave greater access to pedestrians and cyclists. The paths network now forms part of the Ellesmere Port Greenway, a 'green loop' of pathways and cycleways that now stretches to more than 50 kilometres in and around the Ellesmere Port area.