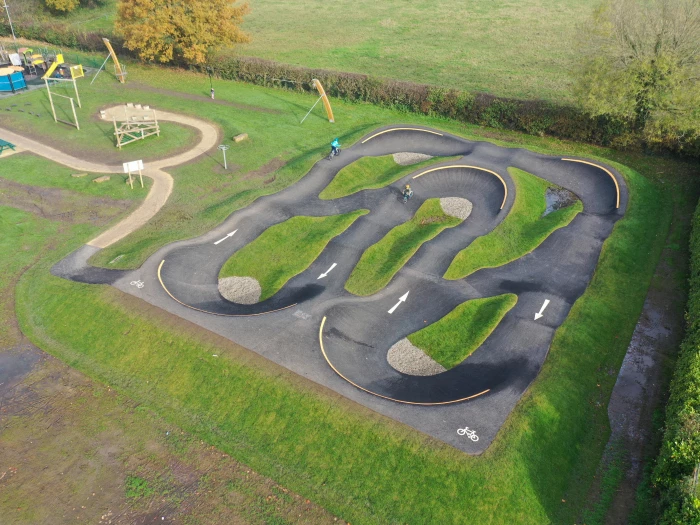 Waverton pump track building
Waverton, on the outskirts of Chester, realised the need for an all-user multi-wheeled facility for their community. After securing funding in 2019 and approaching potential suppliers for their thoughts and proposals, Clark & Kent Contractors won the tender evaluated on quality, cost efficiency, design and consultation.
We started work at the Cheshire site and took six weeks to complete the project. The site is subject to a high water table, and the project required an extensive drainage system. Special consideration was given to this and the long and tight access around a playground and a football pitch.
Scope of pump track works included site measure and mark out, site stripping, a complete remodelling of the landscape to the chosen design, placement and compaction of track materials, sub-base surfacing, Tarmac surfacing, a full turf landscaping scheme and thermoplastic track marking.
The track is set in a perfect location just next to the playground and football pitch, giving parents and users clear sight lines to enjoy all the facilities in the park. The all-weather tarmac surface has many inclusive yet progressive features that will keep all users entertained for years to come, from beginners to experts.
Waverton is in a very rural area steeped in a history of name changes with much expansion in the late 20th century. It is known for the village football team, AFC Waverton, which competes in both the Chester and Ellesmere Port Junior Football Leagues.
Enjoy our video of BMX riders at the Waverton pump track