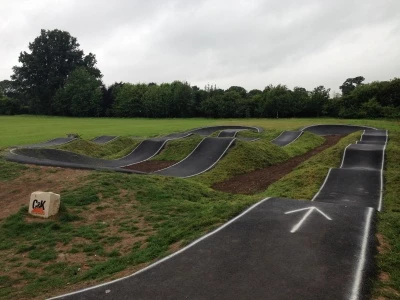 Christleton pump track builders
Clark & Kent were approached by Christleton Parish Council in Cheshire to build an asphalt scooter pump track for youngsters.
Extensive plans were drawn up, including 3D designs, for the council to evaluate before going ahead with the project. The pump track design is for a relatively small circuit but with plenty of hills and bends incorporated to test scooter rider skills as well as provide a fun track that is a pleasure to ride.
The skills scooter track has four straights designed to fit into the parcel of selected land as efficiently as possible. Clark & Kent liaised closely with local councillors and young riders to ensure the finished scooter track met the local community's needs.
A drainage scheme was incorporated into the project, as well as the usual groundworks and specialist surfacing. The scooter track at the Christleton playground is at King George's Field, off Little Heath, Chester has proved to be a great success. The local Mums in the Know website describes it as:
"The track looks great – it's a single tarmac track that loops around a couple of times and, while not huge, has plenty of hills and dips to keep things interesting."
Client: Christleton Parish Council
Christleton is a village in Cheshire just a few miles south of Chester with a population of around 2,000. Village amenities include a sports centre and swimming pool, a parish hall and three pubs. A large pond is widely known as Christleton Pit and is noted for the abundance of wildlife there. The Shropshire Union Canal passes through the village.