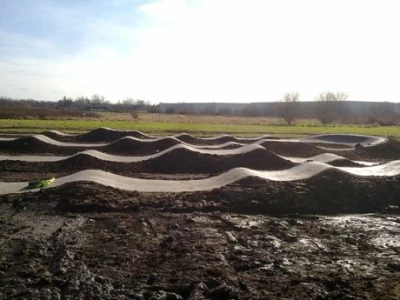 Europa Way pump track builders
Clark & Kent Contractors were contacted by Stockport Metropolitan Council following a You Say-We Pay scheme proposal. The brief was to provide a small BMX play track on a recreation ground at Cheadle on the outskirts of Stockport.
Due to the success of our past projects in and around the Manchester and Cheshire areas, we were selected to implement the design and build of the BMX facility within the available budget.
It was agreed that the pump track follows a typical design and includes four straights and three 180° berms. Due to the wet nature of the site, it was decided to install a surface water soakaway system to help combat the saturated ground conditions.
All construction materials had to be brought onto the track site carefully to minimise the impact on the existing ground, which could easily be churned up by the wet and challenging conditions.
Construction methods were typical for the UK climate and included earth-based material, a stone sub-base layer and a limestone top surface dressing. Both the start hill and the corners had tarmac applied to the surface to maximise grip for BMX riders and minimise ongoing maintenance in the future.
Landscaping consisted of reusing existing topsoil stripped from the site, shaped sympathetically to blend with the new track and sown with grass seed. On completion of the pump track, all access routes to the site were made good and reinstated where necessary. The track's grand opening saw the Masters category BMX World Champion in attendance. The pump track is now well used by BMX riders from the local Stockport areas and further afield who come to enjoy this fantastic little pump track.