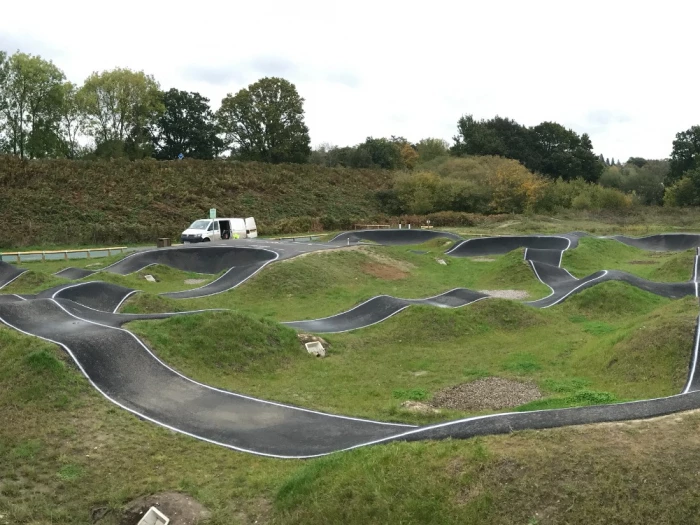 Fleet pump track building
Fleet pump track was constructed on the edge of Edenbrook Country Park for Berkeley Homes, the biggest house building company in the UK. The pump track was one of several recreational facilities built as part of their new Edenbrook village development in Hampshire.
The pump track was constructed adjacent to a live railway line on an unusual site of varying topography. Berkeley Homes used Clark & Kent contractors due to their experience of building pump tracks and a comprehensive tender return that included an impressive number of health and safety records and accreditations.
Berkeley Homes did the enabling works to create a level 45 x 30-metre area on which Clark & Kent constructed the track. In addition to our usual works at the Pale Lane pump track, the company also implemented various 2D and 3D cellular protection measures to ensure user safety all year round.
Fleet Pump Track was constructed on the edge of Edenbrook Country Park and is also known as Pale Lane Pump Track. The site had many natural undulations to consider during construction. It was finished with an all-weather all-tarmac riding surface designed to give the local community the most inclusive and progressive experience with aspects of all levels of abilities taken into account.
The pump track build time for Berkeley Homes was five weeks and we have since been engaged on several similar projects for the client.