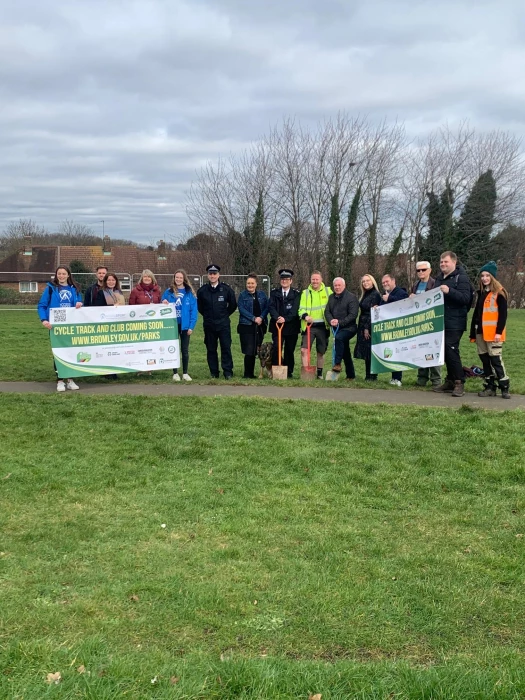 Hoblingwell pump track builders
The Hoblingwell Reception Ground Pump track is situated alongside a busy playground and football fields in Bromley, Kent.Clark & Kent Contractors won the tender for building a cycle track at the site to accommodate all types of wheeled sports including BMX biking, scooters and skateboards.
Our experience in pump track building and providing cost-efficient turnkey solutions for cycling facility needs was crucial in winning the contract. The company also catered for their landscaping, pathway and a learn-to-ride element that formed part of a larger scheme.
The sloping site at Hoblingwell provided a great footprint for the pump track and particular attention was paid to implementing a drainage system in place. Our track-building team worked closely with local community groups to meet an exact brief and provide a progressive yet safe, fun cycle riding facility suitable for all ages and abilities,
The project includes an all-tarmac pump track, a learn-to-ride area, pathway works and a community area designed for cycling-related activities. The track-building project was completed on time and under budget to our very high standards.
The organic and ascetically pleasing pump track project was finished and handed over in March 2022. The completed cycle track is appropriate for all types of wheeled sports, including mountain bikes, scooters, balance bikes, BMX bikes, skateboards and in-line skates.
The Hoblingwell track improves leisure facilities at the popular recreation ground. The finished scheme includes associated landscaping, including seating areas, storage units for equipment, wayfinding and facility signage, cycle parking, litter bins and tree planting.
The whole £457,000 project was made possible thanks to Council and grant funding support from Access Sport, Clarion Futures, the charitable foundation of Clarion Housing Group, the Bromley Safer Neighbourhood Board, The London Marathon Charitable Trust, and the Places to Ride programme, which is being delivered by British Cycling, Sport England & the Department for Digital, Culture, Media & Sport (DCMS).