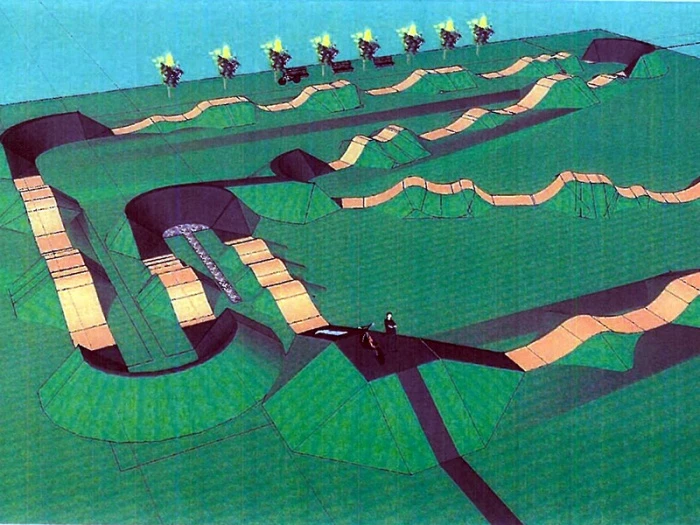 Eastbourne pump track builder
Eastbourne BMX pump track is for wheeled users aimed primarily for use by cyclists. The council wanted to couple the pump track with a new skate park to complement the existing park provision.
Clark & Kent were contacted because of their previous experience in this type of work, their involvement in similar projects and their operational efficiency in public open spaces. Clark & Kent were selected to undertake the complete works, from the planning stage to the final handover. The project consisted of:
Earthworks and site clearance
Drainage schemes
Sub-base surfacing
Specialist asphalt surfacing
Landscaping of the site
Reinstatement works
Approved designs got planning consent before Clark & Kent moved in with diggers, working alongside architects, designers and planning officers. The design covered 60 x 40 metres and included seven straights and six asphalt berms. The design brief insisted the facility be inclusive to all levels of ability and the track layout lends itself to all types of users, from beginner to experienced riders.
Given the site's location, the council opted for asphalt surfacing on the starting area and corners, a decision that helped reduce maintenance costs. A typical limestone surface was used to give a smooth-riding track and also make this an all-weather facility. As the site had previous problems with standing water Clark & Kent installed an extensive ground drainage scheme that included multiple stone-filled trenches and culverts.
The build time for the project was five weeks, more protracted than usual due to the restricted access and some adverse weather conditions. However, the pump track project was finished promptly given the circumstances and has proved to be a great success. The Eastbourne BMX track has its own Facebook page.