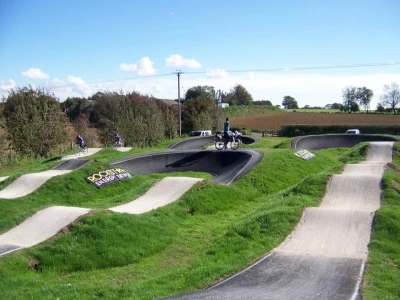 Swingfield Minnis pump track
Swingfield Parish Council selected Clark & Kent to design and build a specialist pump track at Swingfield Minnis, near Hawkinge in Kent.
The BMX track was constructed in public open space and has a unique design that allows users to make consecutive laps of the circuit.
The track is 140 metres in length and features six berms linking the limestone straights. Specialist surfacing and landscaping included turfing, planting and seeding of the site.
Swingfield Minnis BMX pump track is suitable for use by riders of all levels and abilities. The track, located just off the A260 in Chelmsford, was funded by the Roger de Haan Charitable Trust as part of the development of the public park, which is also a nature reserve. The BMX track attracts many young people who turn up to put the track through its paces.
BMX biker Toby Harris comments:" Still in love with this track, props to C&K for building something so rad. Even after all of the frost melting and shocking weather, the draining system is working perfectly, and the track is running sweet!"
Mikes & Bikes commented: " A fantastic example of how fun a pump track can be in a relatively small amount of space, whilst still blending in relatively well with the area around it."
Client: Hawkinge Town Council