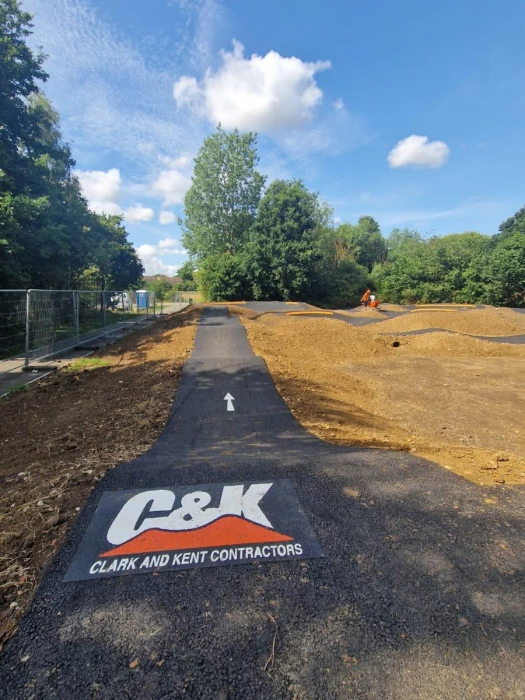 Ashford Pump Track
Clark and Kents Contractors, renowned for their expertise in recreational project development, embarked on a transformative journey in the heart of Ashford's Victoria Park, Kent. The ambitious undertaking involved the construction of an all-tarmac pump track designed to inspire and unite the community through exhilarating cycling experiences.
This case study highlights the successful completion of the project, demonstrating Clark & Kent's commitment to excellence and its profound impact on the Ashford community.
Victoria Park in Ashford has long been a beloved green space for residents. However, it was in dire need of revitalisation to cater to the community's diverse interests. Installing an all-tarmac pump track was envisioned to inject life and vibrancy into the park, offering a thrilling space for cyclists, skateboarders, and rollerbladers alike.
Clark and Kent Contractors were chosen to bring this vision to life and create a recreational haven promoting outdoor activities and fostering community engagement.
Project Overview
As with any large-scale project, inherent challenges demanded careful consideration. The primary focus was creating a pump track that catered to riders of all skill levels while adhering to strict safety standards. Additionally, the project needed to blend seamlessly with the park's existing environment, preserving its natural beauty.
In-depth planning sessions were conducted by Clark & Kent's team in collaboration with park management, local authorities, and community representatives. The company's unwavering commitment to community involvement ensured that the pump track's design was influenced by valuable feedback from potential users, allowing for a truly user-centric and inclusive recreational facility.
Building The Pump Track
With meticulous planning in place, we initiated the construction phase showcasing their prowess in innovative engineering and efficient project management to ensure a smooth execution from start to finish. The all-tarmac surface, a unique feature of this pump track, was chosen for its durability, low maintenance requirements, and enhanced rider experience.
We engaged in regular site tours and interactive sessions to foster a sense of ownership and pride in the community. Our team took time to explain the construction process and keep everyone updated on the project's progress. Such transparent communication cultivated a strong bond between the community and the contractors. We completed the pump track well ahead of schedule despite numerous complexities. We surpassed the community's expectations, delivering a pump track that was functional, safe, and visually appealing.
Pump Track Completion
The building of the all-tarmac pump track was met with overwhelming enthusiasm from Ashford's residents. Once a passive green space, Victoria Park has been transformed into a dynamic hub for outdoor enthusiasts.
Beyond promoting healthy activities, the pump track has become a focal point for social interaction, where individuals of all ages and backgrounds celebrate their shared passion for cycling. This case study exemplifies the value of well-planned and expertly executed projects in fostering community unity, promoting outdoor activities, and enhancing the quality of life for residents
The 17-acre Victoria Park in Ashford features a fountain, a riverside walk and a memorial garden. The Victoria Park and Watercress Fields Project is a £4.5m project delivered by Ashford Borough Council and the National Lottery Heritage Fund to improve facilities with a new cafe with community space, a new bike track, a wetland area and a flagship playground.