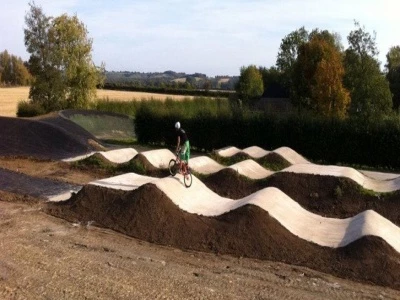 Pure Bicycles pump track constructors
Pure Bicycles is a BMX Racing bike manufacturer world-renowned for high-end components, frames, and their BMX racing team. The brand is known globally for its top-end frames, and the company always presents the image of efficiency and professionalism.
Clark & Kent Contractors were approached by the company CEO, who had a basic BMX training facility in his private grounds based in Southern England. Due to the expansion of their team, the success of the BMX bike brand and the team performances, they decided to bring their training facility up to date in time for the 2012 World Championships in Birmingham.
After consulting and exchanging design briefs and ideas, Clark & Kent Contractors were given the go-ahead to implement many exciting changes and additions to the facility.
The changes and additions included:
New five-metre start hill.
Rebuilding of existing first straight.
Tarmacadam resurfacing on several existing corners.
Construction of two new full-size BMX straights which could be ridden in any direction.
Construction of re-start ramp.
Construction and tarmacadam surfacing of a new full-size berm.
Resurfacing of the entire track.
Design and installation of the all-tarmacadam multi-directional pump track.
Employing Clark & Kent Contractors was a turnkey solution for Pure Bicycles in implementing this brilliant facility. The efforts of C&K and the finished product surpassed all expectations. Since completion, Clark & Kent has been periodically maintaining the various elements of the facility, which continues to give the training provision necessary to help improve the team's BMX skillset.