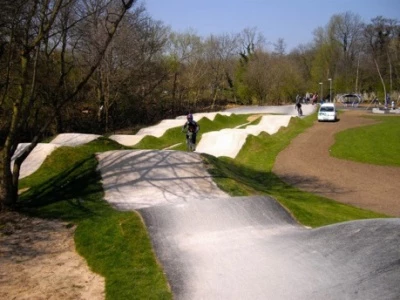 Colshaw Farm pump track building
Clark & Kent BMX track builders were commissioned to provide a new BMX play track at Wilmslow, Cheshire.
The complex includes a multi-use games area and football pitch with the BMX pump track building works overseen by Clark & Kent. The brief was to build a small pump track with the start hill and turns located to allay neighbours' concerns.
The new Colshaw Farm BMX pump track owes a lot to local youngsters with a significant say in its design. The first straight is a line of ever-rising jumps that allow BMX bikers to build up speed and flow. The asphalt berm turns 90° over a small double jump into another 90° turn before dropping away to a fast-flowing second straight and an asphalt return.
The track was officially opened by GB Olympic rider and twice world champion Shanaze Reade and is now heavily used by BMX riders. The track was part of the £200,000 lottery-funded facility that includes new football and basketball pitches. The pump track received excellent reviews, and the project opening was featured on Manchester BBC News.