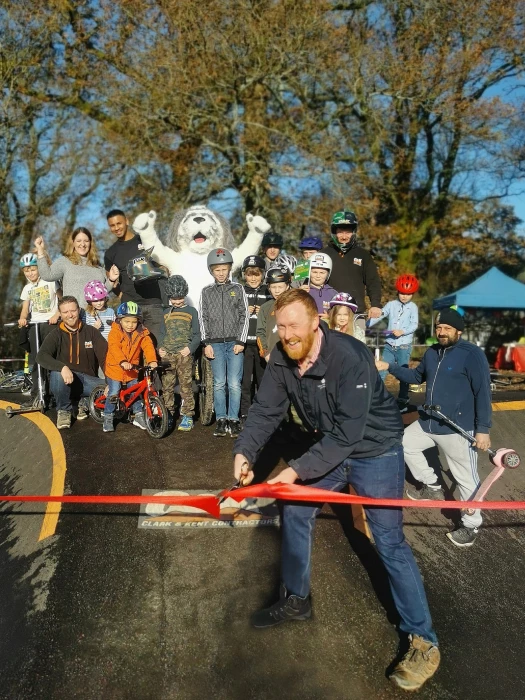 Pump track building at Windermere
Windemere "Park For All" is an ambitious long-term project started in early 2017 by Ben Berry and Morgan Doughty, who was soon joined by Agi Tasker, Amy Thompson, Vikki Bolton and Jane Stevens. With a clear goal of modernising the existing out-of-date play area, updating the dangerous 20-year-old skatepark, and constructing a new state-of-the-art tarmac-surfaced pump track.
Stage one (play area upgrade) was successfully realised in July 2021 and met with tremendous enthusiasm by local youngsters and residents.
Stage two was the tarmac surfaced pump track, and Clark & Kent Contractors were chosen following a successful public tender.
Polly Straker, SLDC Locality Officer, said: "Hopefully, the pump track will take around three to four weeks to complete. This has been achieved by the hard work of the Windermere Park For All community group. It's been great working with such a dedicated and enthusiastic group on the project. We received a British Cycling award from their Places to Ride capital grants programme for £25,000 and £20,000 from Sam's Fund (English Lakes Hotels), £3,000 from the Dulverton Trust and £2,000 from the Holehird Trust to reach the goal of £50,000. The track will be suitable for all levels of ability and all ages. We are hoping to have an opening event where the team from Clark & Kent, who are installing the track, will demo their skills and give advice."
The undulating circuit of rollers, hills and camel humps are designed to appeal to riders of any age and ability, not just teens on BMXs, as cyclists "pump" their bikes along using up-and-down body movements rather than pedalling or pushing.
Local mum Amy Thompson, publicity officer for Windermere Park For All, said: "The new pump track will be a great addition to the park, providing a dedicated space for families and local people of all ages and abilities to have fun, spend time together and enjoy riding a bike."
Andy Farr, Head of Business Planning and Transformation at British Cycling, said: "Windermere Parks for All and SLDC are doing great work to get more people cycling in Windermere, so we are pleased to support their efforts to bring the community together on the new pump track at Queen's Park through Places to Ride."
Completed on time and on budget in August 2021, the pump track was hailed as a fantastic success and brought the long-term goals of Windemere Parks for All ever closer to completion.