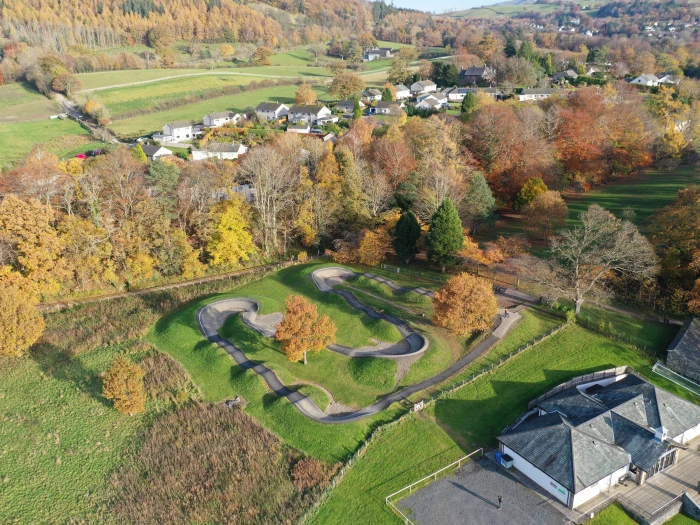 Keswick pump track construction
Keswick BMX pump track is located in Fitz Park, Keswick and designed for use by mountain bikes and BMX bike riders from beginners to advanced, with berm corners, step-ups, rollers, doubles, triples and more challenging jumps for the experienced rider.
Clark & Kent's proven track record in BMX track building led them to supply and install a new BMX and MTB pump track in the heart of the Lake District National Park at Keswick. Working alongside the clients, C&K carried out the specialist shaping of the Keswick pump track features.
Utilising the lie of the land, a cascading design was agreed on to maintain good rider flow and achieve the best pump track riding experience. The scope of work included several typical designs and construction-related items and methods. They included user-group and community consultation, the design and supply of drawings to assist with planning, fencing and securing the site, tree protection measures, site clearance and drainage works, sub-base formation, and tarmac surfacing concreting and turfing.
Keswick pump track riders have a Facebook page here with some great videos, and the official visitor website Visit Keswick features this family-friendly BMX track on its 'what to do in Keswick' pages. Following the original construction and after the fantastic response from the client, we returned to the Keswick pump track and added a full tarmac riding surface, fully inclusive and maintenance-free.
Keswick is an English market town in Cumbria lying within the Lake District National Park. A mining town in the 18th century, it is now a major holiday centre with tourism the main industry for more than 150 years.
Take a look at this video of the Keswick pump track in action.