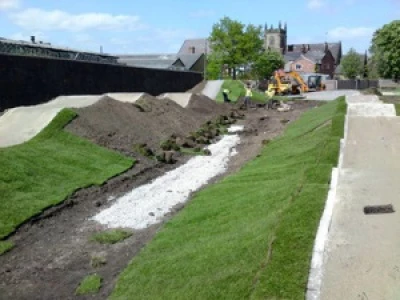 Macclesfield pump track
The BMX pump track built by Clark & Kent at Windmill Street in Macclesfield, Cheshire, was the first in the UK to feature the use of block paved start ramp and berms.
Cheshire East Council approached Clark & Kent to build the Macclesfield track following a previous track rebuild at a BMX circuit in Crewe. We designed an all-weather BMX pump track circuit for Windmill Street that features a multi-level rhythm section that gives riders a testing combination of jumps and obstacles. The track is 160 metres long and two metres wide. The build time was three weeks. After the track was finished, it was turfed with grass to blend in with the surroundings.
Since opening, the pump track has proved a resounding success with young riders in the area and has helped pave the way for many more BMX tracks in and around the Cheshire area. The Clark & Kent BMX race team attended the launch of the Windmill Street track with team riders from across the region. You can see the Windmill Park pump track in action on their Facebook page.
The BMX website More Dirt features the unique Windmill Street track and comments:"The Windmill Street Pump Track in Macclesfield is a small progressive pump track designed to be enjoyed by all abilities, from beginners to elite, on all bikes. This facility has an exceptional finish with block paved turns and a start hill. The track is completely edged with block paving and finished with turf."