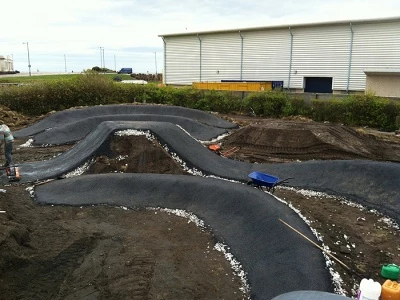 Transition Extreme pump track
Managers of the Transition Extreme Skatepark in Aberdeen approached Clark & Kent Contractors to design a new skatepark-style pump track. Clark & Kent implemented the design with a stone sub-base, a new surface, tarmac berms, and jump boxes to reduce any future maintenance work for the track.
The area features a range of jumps, track obstacles, berms, boxes and hips. The skatepark track was completed in March 2012 and proved to be a great asset to the community. Transition Extreme launched in 2007 and provides a variety of facilities for the local community, including an indoor climbing wall, cafe, recreational space, learning zone, meeting facilities, and skatepark.
Transition Extreme operates as a charity and uses urban sports to attract and engage local youngsters. Located in a prime location on Aberdeen beachfront, the skatepark is easy to find and offers a wide range of youth and community programmes.
Extreme Summer is an annual project that engages young people at local skateparks throughout Aberdeen City and the surrounding area. Transition Extreme is recognised as a significant influence on the community. It has received several awards that mark its service to the community. Not only do they provide community and youth projects, but they also offer many sporting activities.