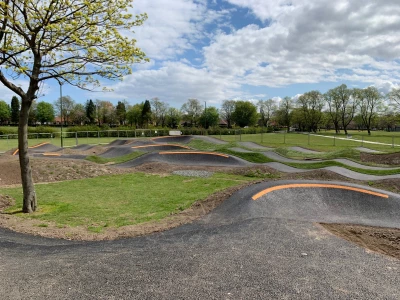 Falkirk City Council invited us to tender for the BMX pump track project at Grangemouth due to our experience in the sector as specialist contractors and our comprehensive list of completed projects.
We were selected after a competitive tender, offering the most economically advantageous turnkey solution for the supplier. Initial consultation was undertaken and minor design tweaks to the tender design were implemented to include the wider expert straight.
The project was an eight-week programme and included several constraints including trees with root protection and a low water table. We used an aluminium trackway to the site to reduce the impact on the surroundings and ensure the project came in on time with minimum disruption to the park.
Completed in April 2021, the pump track is designed with expert, intermediate and beginner loops for all ages and abilities. The facility has helped make the regeneration of Zetland Park a great success and we look forward to being part of more Scottish cycling projects.
Zetland Park, Grangemouth situated a short drive in between Glasgow and Edinburgh has many
interesting monuments and castles within a stone's throw from the track providing the perfect backdrop to our organic look-and-feel facility and making it an instant classic.
Other C&K pump tracks constructed in Scotland include tracks at:
Chryston, Cumbernauld, Transition Extreme.