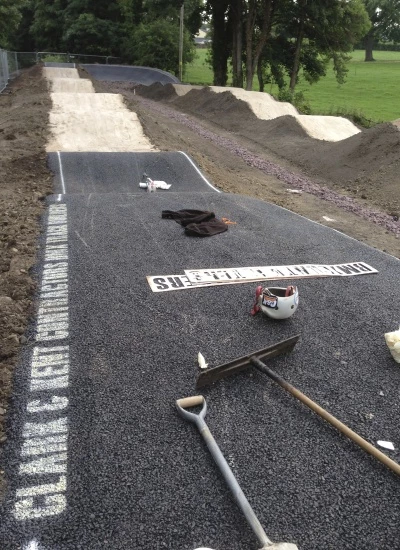 Pontesbury pump track construction
The Parish Council of Pontesbury approached Clark & Kent Contractors to construct a BMX pump track in the Shropshire village next to the Primary School and children's play area. Pontesbury village is in the heart of rural Shropshire, and the council lifted a £10,000 grant from Awards for All of the Big Lottery Fund towards the cost of the new BMX track. Careful thought was given to the design of the BMX Pump Track that runs alongside a busy footpath and bridleway.
Initial consultation indicated that a two-straight design would be most suited for the application, with the safety of both the users and people walking or riding past a major consideration. The two-week build by Clark & Kent included site clearance, earthworks, groundworks, surfacing, drainage, landscaping and reinstatement. The project was completed on time and within budget constructed, and the community was delighted with the resulting BMX pump track.
The BMX track is now open in Pontesbury and is being enjoyed by many local young people. The track has been designed to be an excellent introduction to the sport for new BMX riders and a challenging test for more experienced BMX bikers.
Clark & Kent specialise in building smaller pump tracks with particular constraints, such as those situated on irregular plots of land or needing specialist drainage or landscaping. The company works with many local authorities and sports organisations. It has the knowledge, expertise and skills to build BMX pump tracks to the most demanding specifications and at very competitive rates.
Clark & Kent can handle the whole track building project, from design through construction to delivery. We work closely with clients to ensure specifications are met, and work is completed in a timely fashion. The company can also arrange regular follow-up maintenance to ensure the BMX track provides many years of service and continues to be enjoyed by BMX riders.
Client: Pontesbury Parish Council