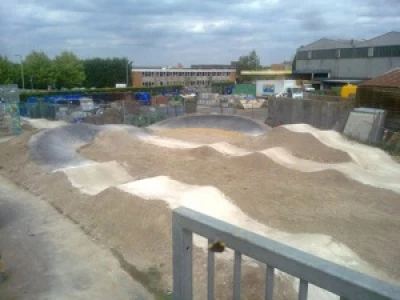 Bury St Edmunds pump track
The pump track development in Bury St Edmunds Skatepark Experience was carried out by Clark & Kent Contractors. Skatepark users in Bury St. Edmunds wanted a new pump track for BMX bikers with lights, planting, bins and benches.
Bury Skatepark Experience began life officially in 2009, and regular skating users aged 10-25 formed a committee to draw up original designs for a new pump track and began fundraising. You can find their Facebook page here.
With the support of St. Edmunds Borough Council, the funding initiative had begun a year before the pump track building started. The original skatepark has served the local young people well, seeing more than 10 years of skateboard action, but a significant upgrade was in order.
The new track was built alongside the popular skatepark and now forms part of the comprehensive complex. Council Youth & Community Development Officer Simon Pickering said: "Clark and Kent Contractors took the youngster's ideas for the track and developed a track described by young people and the older BMX community as amazing."
The pump track building work carried out by Clark & Kent was started in April 2011 and was completed a few weeks later, right on schedule. The skatepark, featuring a range of challenging ramps and a street course, is one of three council-managed skateparks in the area. Others can be found at Haverhill and Newmarket. The new pump track is a tight-knit figure-of-eight-style track that is fun to ride and challenges all levels of BMX bike riding ability.