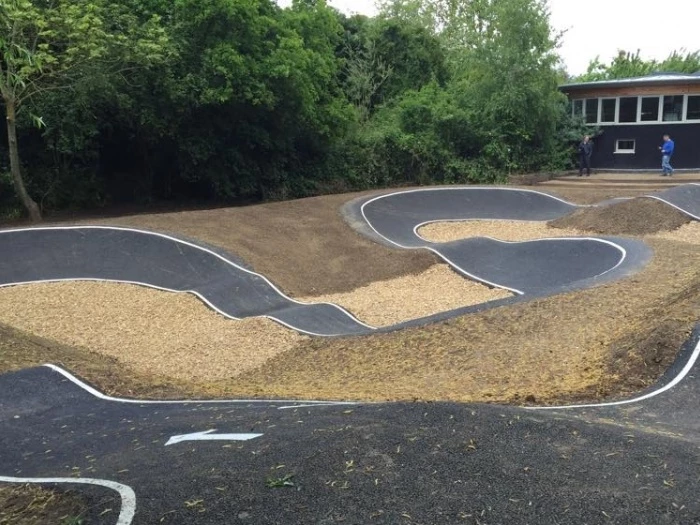 Brown's Field pump track building
Clark & Kent Contractors supplied and installed a multi-wheel multi-weather learn-to-ride pump track for beginners and micro-scooter users for Cambridge City Council at Chesterton. It's the third pump track project we have completed in Cambridge, with other tracks at Pye's Field and Trumpington.
Clark & Kent came up with an innovative bespoke design that best uses the existing natural landscape. The Brown's Field pump track follows the meandering undulating nature of the site to give it an almost organic appearance. It also offers users the biggest circuit possible while meeting constraints imposed by the Royal Society for Prevention of Accidents (RoSPA).
Due to the nature of the site and limited access, considerable attention was paid to the safety requirements of the location and all relevant health and safety procedures and CDM regulations were followed.
The Brown's Field pump track at Chesterton features an entire asphalt riding surface that enables all types of users to enjoy the facility, including micro-scooters, rollerblades, skateboards, BMX bikes and mountain trail bikes.
A series of berms and various rollers and obstacles make this a compact, unique layout with the scope to make continuous laps of the track. Clark & Kent also installed a comprehensive soak-away drainage system. The track is positioned on the grounds of the Brown's Field Youth & Community Centre and gives parents and children a chance to enjoy BMX biking.
Brown's Field Youth and Community Centre is in the heart of East Chesterton to the north of Cambridge. The multifunctional centre has a range of activities and programmes for families and people of all ages. The centre has a large foyer, a hall with a sprung floor, a family room, two meeting rooms and a youth wing.
Check out our video of the Chesterton pump track in action