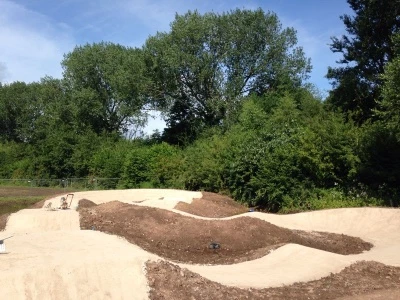 Spennells Park pump track
Spennells Park, Kidderminster, is a low-budget pump track primarily aimed at the beginner to intermediate standard BMX user group. The brief was to design a pump track layout to build confidence in BMX bike riding, particularly for the younger age group and those taking their first steps in the sport.
Clark & Kent Contractors worked alongside Wyre Forest District Council's landscape architect and the Environmental Agency as they worked on another project in the same park. The brief was to make the most of the available budget, so it was agreed that a design and build contract would be the best way to get the best from the limited funds available for the project.
Specialists from Clark & Kent Contractors drew up preliminary 3D track designs and submitted them to the council for approval. Talks with the council and BMX user group highlighted key features that needed to be included in the scheme.
The user group specified the need for some key obstacles to be incorporated into the track, including tabletop jumps, an S-Bend and a continuous loop-style design that would enable riders to make continuous track circuits. Adding more demanding features meant that riders could develop confidence and advanced BMX bike handling skills.
The finished Spennels Park BMX pump track is 80 metres in length and features a series of berms, rollers, jumps and obstacles that provide an engaging rider experience for beginners and a challenging ride for the more experienced. The BMX pump track layout was designed to maximise the parcel of land earmarked for the scheme and includes a comprehensive drainage scheme and a full limestone surface.
Client: Wyre Forest District Council