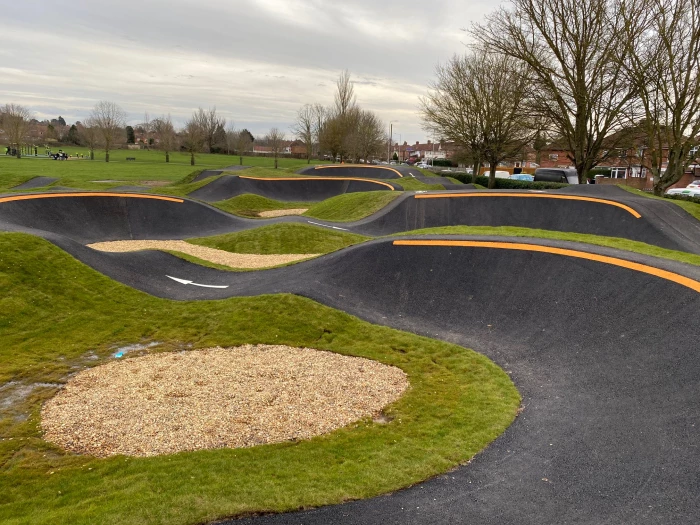 Long Barn Lane pump track
Following a public consultation process, Reading Borough Council identified the need for a multi -wheels sports area to help satisfy the local youngsters' ambitions. An old BMX track built in the 1980s was the location for a new pump track to enhance the existing well-used playing field at Longbarn Lane recreation ground.
Long Barn Lane playing fields is a public open space with numerous pedestrian footpaths and pathways. Unfortunately, there is only one main entrance into the park, which we had to use for construction, and this was managed accordingly and in line with all HSE and CDM requirements. Additional safety measures were agreed upon and implemented coupled with a risk mitigation strategy to ensure the safety of all staff, members of the public and park users.
The old BMX track had many features and undulations incorporated into the new track design, giving a more exciting and engaging user experience and a longer journey around the shapes and features, creating a healthy and innovative way for the users.
The design was created to maximise the available sub-base materials and give a greater return on investment. The organic design presented various options and configurations to be enjoyed by the user group's various disciplines, including BMX, MTB, scooters, skateboarders and rollerbladers. C&K was contracted to construct a full tarmac design that would cater for all wheeled sports enthusiasts at every age and level of ability.
The construction stage was completed over the winter despite adverse weather and ground conditions. We installed an additional pathway from the entrance to give the all-weather facility hardstanding access to all users throughout all seasons. The project was delivered in the seven-week timeframe, and the budget was not exceeded.
The scope of works included several stages of construction, such as:
Site measure and marking out
Site stripping and clearance
Complete remodelling of the landscape to the chosen design
Placement and compaction of materials
Sub-base surfacing
Tarmac surfacing
Full turf landscaping scheme
Thermoplastic track marking scheme
Long Barn Lane Recreation Ground is a neighbourhood park of around 3.3 hectares located south of Reading town centre in Katesgrove Ward. It is surrounded by housing on all sides and is popular with local residents. The park provides a number of sporting and recreational activities, including a BMX track, a multi-use games wall with a tarmac surface for football, basketball and cricket, and a small children's play area. See the Sam Sinclair video This New Pump Track in Reading is Insane