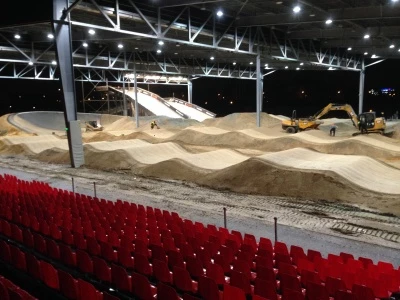 Paris BMX SX Track
Clark & Kent Contractors were chosen by tender to undertake a major rebuild of the supercross (SX) indoor BMX track at the Saint-Quentin en Yvelines Velodrome near Paris.
The project had three primary stakeholders: the Fédération Française de Cyclisme, Velopolis and the town of Saint Quentin en Yvelines. After submitting designs, RAMS and supporting literature, Clark & Kent were selected for the undercover project.
The scope of work was substantial. It included a full BMX Supercross (SX) track redesign and rebuild, new asphalt surfacing to the corners, limestone dust to the straights, retaining concrete on the sides, and some taller features to the rear. With input from the French Cycling Federation and the French BMX team members, we completed the ambitious project in just four weeks.
The BMX track has two starting ramps (5m and 8 m), and three split straight lines, allowing lower and higher levels of rider difficulty and a sprint training track. All users have welcomed the track. It has proved an excellent training base for elite French riders to hone their skills for regional, national, and international BMX competitions.
Sports activities at the Paris Velodrome include track cycling, combat sports, fitness, badminton, and BMX racing. The BMX stadium is open to all categories of practitioners, from five years old to seasoned professionals.
BMX enthusiasts of all levels, both amateur and professional, can engage in the sport at what local officials describe as an 'excellent venue'. The Velodrome stadium not only holds sporting activities but also hosts corporate and cultural events and major business conventions.
The Saint-Quentin en Yvelines Velodrome hosted the 2015 UCI Track Cycling World Championships and 2016 UEC European Track Championships.
Clients: Velopolis, City of St Quentin, French Cycling Federation