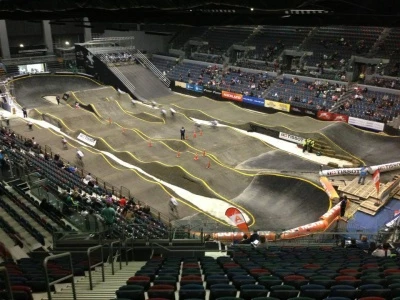 Auckland Supercross BMX Track
Bike New Zealand selected Clark & Kent to build the track for the 2013 BMX World Championships held in Auckland, New Zealand. Following their success at building the BMX track for the BMX World Championships 2012 in Birmingham, UK, Clark & Kent Contractors were invited by Bike New Zealand to replicate their success overseas.
The BMX building project demanded a massive transformation of the Vector Arena in Auckland, a centre that usually held concerts, galas, comedy shows, family events and other functions. Working on an extremely tight timescale and within the weight and space constraints of the Vector Arena, Clark & Kent constructed a world-class Supercross (SX) track to host a very memorable World Championship.
The project also included an overnight re-configuration that allowed elite competitors to race. Asphalt corners and typical limestone straights were built on top of a wooden mass-filled structure designed to accommodate the weight. The project was completed within the strict time limits imposed by the arena authorities.
You can watch an excellent video produced by Clinton Tudor Photography, who created a time-lapse video behind the scenes of the incredible BMX track built in Vector Arena Auckland in less than a week!
Client: New Zealand Cycling
Location: Vector Arena, Mahuhu Crescent, Parnell, Auckland 1010, New Zealand