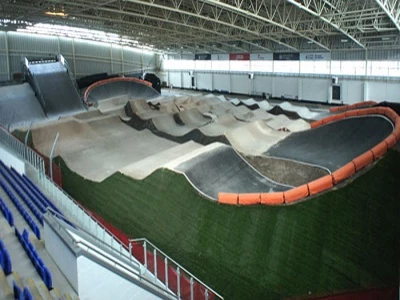 Manchester Indoor BMX SX Track
Clark & Kent Contractors was approached by the UK National Cycling Centre (NCC) and British Cycling (BC) shortly after the new Indoor BMX centre opened in Manchester. A major rebuild of the indoor Manchester BMX Centre track for the UK National Cycling Centre was required to bring it up to international supercross standards.
The BMX Supercross (SX) track was remodelled to rebuild the final straight to international standards. A fresh limestone surface was used along the whole track, with new layers of tarmac on all three.
The upgrade was essential as this is the flagship Supercross (SX) track for British Cycling and is used by the BC BMX squad for regular training. Once the track was smoothed and completed, Soiltac was applied to seal the surface and minimise future maintenance.
The BMX track is a venue for riders of all skills, from those new to the sport to world-class BMX athletes. The amateur track has a five-metre start hill and a demanding range of jump configurations.
The elite BMX track has an eight-metre start hill, which drops into a technically diverse and demanding layout that challenges even the most experienced riders. The Manchester BMX Track helps riders progress through BMX racing from novice to elite, no matter their current ability.
The project is an ongoing success, and the facility hosted the first round of the UCI BMX Supercross (SX) series in early 2013. British Cycling and the UK National Cycling Centre were delighted with the completed works.
Client: UK National Cycling Centre