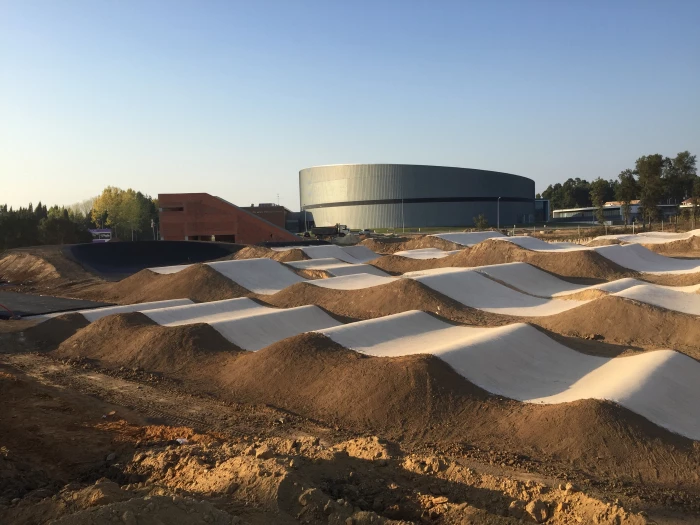 Aveiro BMX SX Track, Portugal
Built for the Portuguese Cycling Federation at the National Velodrome in Aveiro, this is a UCI Category 1 BMX SX track of stone, with stone dust, tarmac corners, and three sets of split straights.
This is one of the few BMX Olympic Tracks in the Iberian Peninsula to host international events of Supercross and is the regular training track of the BMX Portuguese National Team.
The track is 420 meters long and has three zones for rider skills – junior, elite and pro. All turns are coated with asphalt, and the straights have a base material of compacted clay, a sub-base layer of limestone and a stone powder surface, which allows the track to be used in almost all weather conditions.
The track has two UCI starting ramps, one 8-metre ramp for Supercross events and a 5-metre ramp for skilled riders. It also has Prostart starting gates and a Tag Heuer timing system for photo finishes.
Opened in 2009 in Sangalhos, Anadia, the National Velodrome is used for training camps by national teams when preparing for international competitions. The National Velodrome has a covered track of 250 meters and a capacity for 1.000 spectators.
Location: Rua Ivo Neves, 3780-524, Sangalhos, Portugal